The new is all over the internet that anybody that don't link there Nin with sim within some certain days sim will get block which the National Communication Commission other all network provider in Nigeria to start carrying out such process as soon as possible asap now mtn as just introduced easy way on how to link mtn sim with Nin or Nimc which we are about to share with you on this article. 
This process to link sim with nin has already started from some other network provider like mtn and 9mobile which we saw the notice both on tweet and social media if you still don't know why the federal government in collaboration with the Ncc other our network provider to start doing the sim link with nin process then you can check here to know more about it and get to know if your sim is already link with nin from there. 
How To Link Mtn Sim With Nin
You actually don't need to visit any mtn office before you can carry out this process that is you just need to follow some steps and get some requirements before you can be able to link your mtn sim with nin by yourself some of does requirements entails:
Your Nin Number you can learn how to get your here

The phone number you want to link up with your nin. 

Date of birth and Names Both Middle and full name. 

Click here to know how to get an original Nimc card. 
Once you have gotten the requirements listed above then you are good to go and link your mtn sim with your nin without any stress which mtn has made such a process easy for us we wait for the rest network provider to get this done for as mtn does. 
According To Some Tweet We Recovered From Twitter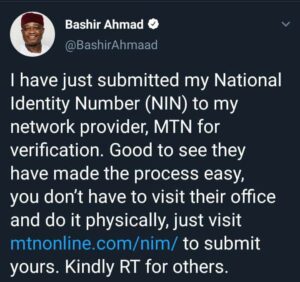 About this nin linking steps you just need to summit some details to mtn for review then you are good to go. 
How To Link Your Mtn Sim With Nin
Visit the following page Mtn Nin page:

https://mtnonline.com/nim/
From there you will see a page as seen on the screenshots below.

Which you will get some info about the Nin from the page. 

That stated that you will need to revit the page if you were unable to verify it by Ncc or Nimc service. 

Go ahead, scroll down and provide your details. 

Part of the details which entails first name, last name and middle name. 

Follow by,  the phone number you want to link. 

And the National Identity Number Nin number.
Click here to know how to get your nin number. 

And lastly, an email is required to complete the process. 
Then submit for review and wait for response from mtn and The Ncc National communication commission and the Nimc service. 
That's just it with this sim steps if it was verified you have successfully linked your mtn sim with Nin with just one click. 
Note: this is for mtn customers and users only other network providers as not or does not provide such process yet so just stay tuned on our page for updates on something related about the Nin link with sim issues. 
Have you been able to link your sim with nin? 
Let us know in the comments section and join our telegram channel for fast updates.