Registration for your nin number. So, most of you guys who recently applied for your national id card must have been given a NIN number and must be told you will have to wait for several years before you Original id card will be ready, well here's a good news to you,with the nimc mobile app, you don't have to wait any longer,
How To Get your original id card without visiting any NIN office.
The nimc mobile app is designed to make retrieval of your national id card much earlier and convenience, it requires for your NIN number that you got after applying for the national id card to be filled into a field and also set passcode to access the id card in an image format, although it does not save this image to your device, it can easily be screenshot and edited for further printing.
The nimc app has been developed and available on PlayStore since early last year, so we thought to bring it to the notice of those who haven't heard about it yet.
How to retrieve my id card with the NIN app or Nimc Mobile App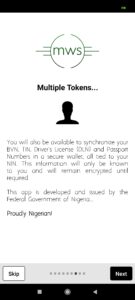 Retrieving your id card with this app is quite easy, all you have to do to get your original id card has been outlined below, kindly read carefully and miss no step.
Requirements After You Access Nimc Mobile App
All that is required for the id card is listed below.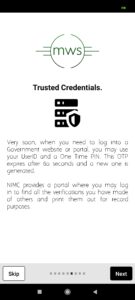 Phone number (this is the phone number used while applying for the national id card)
National identification number (this can be found on the front of the nimc slip issued to you while applying for the Nin registration)
Note that your NIN should not be confused for your bvn, the app has strictly warned that any bvn detected instead of a national identification number will result in the blacklisting of such profiles.
How To Get your original National id card Through Nimc Mobile App
Download the app directly from play store or click here to go to PlayStore.
iOS users should click here to download
After completing installation, launch the app.

A form will be provided for you to fill, please fill this form carefully as the form will require you to fill in your National identification number
(which is the number on the nimc slip given to you for temporary usage after you applied for the Nin registration) and your phone number (please use the phone number you used while applying for your national id card).

Click on submit and an attestation will be displayed to you on the next screen, click on I agree to continue.

Now wait for the system to generate encryption keys and verify your data.

After verification, you will be required to set a 4-6 passcode to the app.
After success logging into the app, click on "show my id" to display your id card in image format.

Screenshot the front side of the id card and click on it to flip it to the back of the id card, screenshot the back too and you are done.
You can edit the image from your phone or take it to any graphic shop or business centre for editing and printing at an affordable price.
There are other things that you can use the app for, few of them will be listed below.
Note: incase you where unable to download the Nimc Mobile App or Nin mobile app from play store you can download it from here and get it straight downloaded to your mobile strictly for android users iOS users can find the app from play store.
Verification From The Nimc Mobile App
You can use this app to scan and verify other people's id card, just below the id card you will see a qr code, scan this qr code by selecting scan an id and the qr scanner will open for you to scan and verify an id.
Get a virtual NIN.
Just in a case if someone needs a national identification number, you can use this app to generate a virtual national identification number, to be used without waiting to get the print out of their nimc slip after Nin registration.
That is all you need to do to get your original national id card printed at your own convenience, without waiting for long to receive the plastic one.
Be sure to subscribe to our telegram channel to get more related articles, and receive more tech info's immediately we publish them.
The Review
Nimc Mobile App
Latest Nimc mobile app that is being used to get the original national identity card using the National Identification Number NIN.
PROS
Full back
Stress free
Recent updates
Most bug fix
Less bug
CONS
Server error
Not yet completely stable
Review Breakdown
Functionality

Readability

Capability

Reliable
Nimc Mobile App DEALS
We collect information from many stores for best price available