The News has been going on since yesterday that the Nigeria Communication Commission NCC Ordered All Network Providers To Start Blocking Sim That Are Not Registered With Nin as of recent which deadline to get that done as been given to all specific users that make use of The network services like Mtn, Airtel, Glo, and 9mobile.
The NCC has already stopped all network providers from pertaining in the process of new sim registration which made them fetch out new rules and guidelines to be followed when registering anybody or any sim as followed the use of Nin national identification number of each user before their sim can be active or will be active.
NCC Ordered All Network Provider To Start Blocking Sim That Is Not Registered With NiN
Recently it was brought to notice that National Communication Commission NCC is supported by the federal government as ordered all network providers to start Re-registering sim with Nin National Identification Number which the process is said to take off on a recent day December 16, 2020.
And the deadline for any Sim or network that does not register with the Nin to got blocked is December 31St 2020 which is quite urgent with a fast process.
So every sim owner is said to have their sim registered with their Nin and if you don't have your Nin yet then you will need to visit Nin office agent that is close to you to enroll yourself and get your own personal Nin number.
How To Check Nearest Nin Enrollment Center That Is In Your Area
You will need the internet to be able to get this done.
Now open a browser and visit.
Then you will be provided with the list of the Nimc or Nin enrollment centers that are available in your area.
In some cases, you might not know that your network or sim has been registered with your nin already so we grab and we will state the process to follow on how to get that done so that you won't stress yourself for any application of Nin or sim registration process again.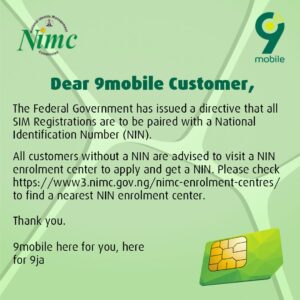 How To Check If Your Sim Is Registered With Your Nin
This process is not for all network providers but for only Mtn And Airtel Users.
Dial the following code *346# on your mtn or airtel line.
You will be charged N20 for this.
After that, you will get a notice if your sim is registered already with your Nin or not.
If your sim is not then you will have to follow the process such as:
get your Nin number ready.
Click here to get your original National Identity card.
And get yourself ready to partake in the latest sim reg process.
Use the above steps to know the nearest Nin enrollment centers that are close to you.
Then get your enrollment and have your own personal Nin number.
After you have gotten your Nin then visit the closest Sim registration agent center to get your sim registered before December 31 to save yourself from sim Blocked.
This article is helpful to you? Use the comments section for answers.
Our telegram channel is open for fast updates.