Lately,  about some months ago airtel surprised their customers with airtel free data which range from Myairtel app free data and Airtel tv free data. All still the same here is another airtel free data which includes airtel tv app free data of 50MB, 75MB, 250MB, and more that is being redeemed from the tv mobile app. 
Just to make people know about there mobile apps such as the airtel tv app and myairtel app airtel did some data giveaway which ranges from 1GB 1024MB and 3GB 3024MB data that most of us enjoy the free data as of then 1GB for my airtel app and 3GB attached to the tv app respectively. 
Here us another great data awoof or awoof data from airtel which we are about to explain to you how you can enjoy such free data awoof. 
Requirements To Get The Airtel Tv Free Data 2020
Airtel Tv app is needed to download it from
the play store or use this link to get the app click here. 

Airtel registered sim will be needed. 

Little data like 10MB will be needed. 

Lastly Ability to read and understand. 
Once you've gotten the above requirements then follow the guide below and get your own airtel tv app awoof data.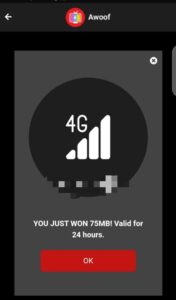 How To Get 2020 Airtel TV App Free Data 
Once you have downloaded the app and installed it to your device. 

Open the app and try to log on to the site using your airtel data connection. 

Note: you can only access the site with airtel network or airtel data connection if not the airtel tv app will not be able to load at all. 

After getting access to the app log-in with your tv app details or signup following below step. 

Provide your airtel number on the signup page as well email which is optional. 

Request for an OTP password that will be sent to your number for verification. 

After that continue with the rest signup process or registration process. 

Make sure your registration is successful after that login to the App. 

Once you've gotten to the app main menu which is also known as dashboard. 

On the top right corner of the app you will see an icon that is identified and a gift icon there. 

Click on it and you will be asked to claim your prize. 

The price is a woof that once you did that you will be asked to claim your prize. 

You will be asked to carry out some task in which the task you are given will determine how much data or airtime you will be given. 

The data range from 50MB, 75MB and 250MB respectively depend on the task you are provided with. 

Once you finish the task you will be rewarded with the airtelawoof data.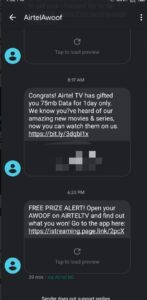 So what are you still waiting for?  Go straight and pick up your abandoned airtel line now and start blazing your own airtel tv awoof data for free. 
How To Accumulate The 2020 Airtel TV App Free Data
There is no hard trick in the accumulation method of this airtel tv free data everyone can carry out the task to accumulate the awoof data. 
The accumulation method is eligible for having multiple airtel sim cards available just like me. 

Once you've gotten the first sim you use to apply for the airtel tv awoof data what else it to. 

Logout data sim out of the app and input the other sim details. 

Then follow the above steps to get another airtel free data which is the best way to accumulate this free data and enjoy. 
Have you gotten your own? Free data? 
Let's hear from you view the comments section and don't forget to join our telegram channel for more related tweaks.