Gidimo seems to make stuff favor people online which allow people to get free data, gidimo app free data can now be gotten in different ways which were stated on this post heading, getting of free 200MB data on gidimo, free 400MB On gidimo and free 1GB data in gidimo. 
We will explain how you can get this data one after the other, yea that's the main point of creating a related article for our viewers but we've also state this before on our telegram channel which most people seems not to understand what mean by the short post, no panic we've got you covered with this gidimo app free data.
According To Alitech Class On Telegram
You now understand or not if not,  then follow us up in a step by step ways. 
Requirements for the gidimo app free data
Gidimo app gets one from play store or direct download from the telegram channel.

Any working sim Mtn, airtel Glo or 9mobile (mtn sim is recommended) .

Data connection is available with internet access.


That's all for now. 
Now we take this step by step as we said earlier we take it from the 200MB part followed by the 400MB and 1GB free data from gidimo all are stated in different forms with different categories being. 
How to get free 200MB data from gidimo
After you have download the app (gidimo app)
If you have not done so by clicking here.

Open it and register to do the registration process or after registration.

Confirm your phone number and instantly you will stand a chance to be redeemed with a free 200MB data bonus.

If it seems you already have the app before or you have opened a gidimo account before you can still get the data by just.


Verification of your phone number that all.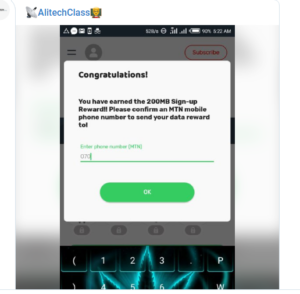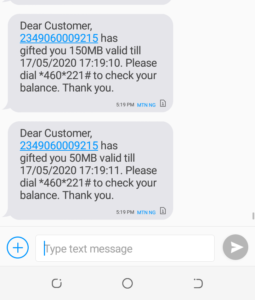 Although this data can be accumulated but just note that you must first redeem the 200MB successfully before you can get to accumulate the data with another sim and not the same sim, now we switch to how you can get the 400MB part from the gidimo app as free data. 
How to get free 400MB from gidimo app
When you have successfully verified your number and gotten the free 200MB.

Then you will see it on the menu bar when you invite a friend.

And the friend subscribes to a plan called SSP plan where you stand a chance to get 400MB data for free on gidimo.

SSP simply means a senior school program, the offer is eligible for the plan only for now.


So you just have to click on the menu and invite your friends to get the free 400MB. 
Now we switch to how u can get the free 1GB data plan.  Pls take this in a step by step way because it's the most important part of this article because we use a trick to get this 1GB data free from gidimo so pls follow the steps well. 
How to get free 1GB from gidimo app
After you have downloaded the app and registered from the link provided, approve.

Make sure u make use of the link to register.

Then on the top right corner of the app click on the subscribe button.

Then click on subscribe for SSP plan for 100point.

Select it and you will see a button that will ask a question "Do you have A promo code" .

Click on the and input the following code "MTN2020gidimo" after clicking on load.

Then you will get a message you don't have enough points to purchase the plan.

Click on the payment method then immediately cancel it.

I repeat don't subscribe to any plan.

Just go straight and logout of your gidimo app and then log in again.

What I mean by that just cancel everything on your gidimo app and close then open it again.


Then you will get a pop-up message that you have gotten free 1GB for subscribing to the ssp plan.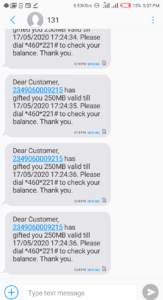 Go ahead and input your mtn number and redeem your free 1GB data from the app then you will get a successful message of your gidimo app free data as shown below. 
Related Question
Can the Gidimo app free data for 200mb, 400mb, And 1GB free data be accumulated?
The 200mb gidimo free data can be accumulated, But for the 400mn can only be accumulated when you invite more people via your referral link and the 1GB can be accumulated by following the same tricks on this article .
I hope I have helped you get the free data from the Gidimo app. 
If so kindly share this with your friends let enjoy this free data from giorno together #gidimoappfreedata don't dull yourself all this is a limited offer so let get things done. Asap.