Nimc slammed over nimc app glitches.
Just recently, an update was added to the nimc app that allows users to view and print their national id card themselves without waiting for a long period for the polycarbonate card which takes nothing less than ten years to be retrieved, this app only requires you to provide your nin number and the registered phone number and you will have your national id card in a snap. This app however contains a lot bugs that really got some users really angry, although the app works well for a good number of people, a lot of people also finds much flaws on the app and this got people wondering if the app is secure and really worth using.
How to get original id card without visiting any nin office.
Do you wish to to earn some crypto?, check out our Alitech Airdrop alerts website to get latest airdrops and earn free cryptos from it.
The nimc app has not been officially announced by the nimc, so as suspected, the mobile app was definitely released for test sakes only, issues like misinformation, passport not showing or nin rejected keeps the more useless to some users and a lot of people have been venting thier anger on social media, twitter especially about how incapable nimc are in creating a simple app.
"I wonder if we can ever get anything right in Nigeria" a twitter user wrote.
but that is not all a lot of other users have been slamming nimc on this platform. Check out some of their tweets below.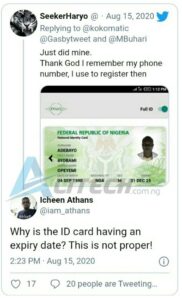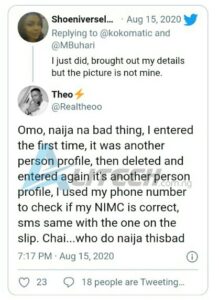 Some other users has taken their frustration to Google PlayStore to lay their complaints about the problems they encountered on the app, even when most of these users rate the app with a single star only a few of them has recieved response from the nimc officials.
Below are some of their laid complains on Google PlayStore.
How to get original id card without visiting any nin office.
Check this out: how to watch football for free online without dstv hacked or app both on pc and phone. 
Now you might be wondering if the app is really worth it. Well our view on this is that, the app is still under early construction and has not been completed yet, this is app is probably the first to be developed in Nigeria to make things much easier for it's citizens, so I suggest we all give them time to fix any issues the app might have and from what has been mentioned on the app, other id card issuance services like driver's license and others will soon be integrated into the app, so i suggest we Drop the app for now and just give them more time to fully fix all glitches on the app. Meanwhile if you still wish to check out the app, just click here to download directly from PlayStore, you might be among the lucky ones the app works perfectly for.
VTV – How To watch DSTV free on android using DSTV hacked app 
Join our telegram channel here to receive more related contents on tech news and other updates immediately we publish.