LetsChat app, So it has been quite a while since we post about any money-making tips, making money online these days is getting tougher by the day but always trust our site to bring you the latest and legit money-making tips.
The chance of making money online is getting thinner by the day as the risk of falling for scams keeps increasing daily, so we are bringing another legit way to earn a few bucks today, this is an app that was launched recently and is yet to be available on Google play store, unless you download using our invite code, you get paid in airtime for signing up, chatting and inviting other users. letschat is a new app and fewer people are yet to know about it, so hurry up and enjoy the benefits now.
What is LetsChat?
LetsChat is an application built for social purposes, you can connect with family and friends using the app, just the way you do with WhatsApp and other social media, but the difference with this LetsChat app is that you get paid for doing little tasks as listed below.
Signing up
You get a ₦300 airtime bonus for just signing up for the app, using our referring link that will be provided at the end of this post. But you should note that this bonus will only be reviewed after 2days of signing up for the app.
Chatting
The app claims to give up to ₦500 airtime recharge for chatting on the app for 3-7 days on the app, you can simply invite more friends to join you on the platform and start engaging in your normal chat, and start earning together, it will be fun!!.- let's chat
Inviting people
As claimed by the app, you can earn up to ₦900 airtime rewards for inviting more users to the app, this users also will get a welcome bonus of ₦300, which is quite some amount, so join using our invite link and start inviting more of your friends to earn more.
How To sign up
The sign up process is quite easy, first click on this link here to visit their website.
Now click on the accept invitation button and download the app which is about 41MB.
If you are unable to download the app from playstore the click here for direct download link
After successful download, install the app and launch
After launching the app, it will request for your phone number, fill your number into the field provided and hit the next button. – LetsChat
Now a message with a 4 digit code will be sent to the number you provided, enter the 4 digit code into the box provided as seen below and hit hit the next button.
On the next page, you will be required to fill in your details, like name and your profile picture too.
You're done, start chatting and invite more users to join by clicking on the profile tab and hitting the invite button, you will be redirected to share your invite link on your various social media apps. – LetsChat Happy earning.
Join the platform by clicking on this link here!.
If you are looking for more ways to earn money online, you can check out our Airdrops website here and keep yourself updated with the latest updates on Airdrops.
After you have successfully registered now to redeem your bonus of 300, 600, or 900 send the following message to let's chat official invite07066670798 then your registration bonus will be sent to you automatically with 24 hrs.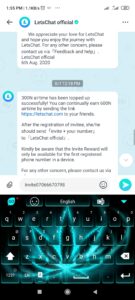 Also, join our telegram channel for more updates on money-making tips and much more.