You might love visiting a specific website or you always visit a website on daily basis or vividly and does websites owner provide an app that seems to be heavy and consume your phone battery or you yourself just like to have an android app version of the websites, no worry you can now or you will now know about how to convert website to android lte app that will work smoothly on your phone which will be very lte and won't gain or use more space on your phone. Let's know about how to convert a website into an android app.
As usual, a most android app which will make use of killing our phone a lot which will start leading to infect on the phone battery followed by taking on other battery that we don't notice about or we just think we've noticed and we went ahead to kill their background process lol I said sorry not the most related app you kill to work on background do stop most do come back again and run background again on there own so is better to have the lte version of any android app that's why we gonna be talking about how you can convert website into android lte app.
How To Convert Website Into Android Lte App
When we talk about converting a website into an android lte app we don't mean by you going to your chrome browser and adding your favorite website to a home screen that is different you will still have the same website with a heavy check using your chrome browser.
The lte android app we gonna be creating with any website is a self-contained app that you don't need your chrome browser again before you can access the website once you've converted it you have just get yourself a simple app that you can use to visit the website you just convert whenever you feel like gaining access to them.
Now we dive into the main part of this article.
You can convert a website into an android lte app by:
Download and install an android app named Hermit browser.

Once you've successfully installed such an app.

Input the website link or url you want to convert to android lte app on the app you just installed.




Then the app will automatically convert the app into a website and send it directly to your home screen or menu.




You can now go ahead and visit the app when you feel like you want to visit your favourite website or webpage.
The website converter app that you download above is said to have other premium support or version which goes for some little about a dollar if you wish to get one and it also supports lower android versions from android version 5 upwards to the latest android version of the one you might be running.
Some Related Things That The Website Convert To Android Lte App is Capable of
The hermit app converts to lte is also capable of converting any android app with heavy usage to lte version for smooth use.
It helps to reduce the length of android apps that consume a lot of battery and kill phones.
The app is free and it contains no ads which can be used unlimitedly to create any app and use to convert any website to lte android app all for free.
Unless you wish to get the premium access that we lead you through some amazing features on the app for as low as £0.99 and the premium purchase ends with £8.99 in total.
Basis Features Of The Converter App
The latest version of V17.0.1 and it's the latest update that was updated on January 18 2021.

Download size 2.87MB and it was released in April 2015 as stated on Google play store.

Support unlimited lte app features and it's forever.

It makes the program to be easy to access due to the android lte convention.

Make users browse faster with great experience and save browsing data with lte app.

Protection of users privacy and other related security features.

Attached with best and superior browsing features.

Enable android system integration and others.

Unlimited android customisation features that allow users to enjoy the android lte features.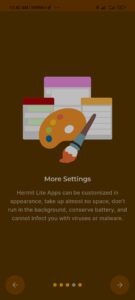 You can download the app above, play around with it, purchase the premium version or try to gain access to it so that you can enjoy more features and keep converting a website into android lte version.