Vpd bank of vpd online mobile bank is just a platform that was just discovered by some of our team yesterday and they seem to pay you directly for N500 for any single person you brought or refer to there platform just to register to the bank this is a Grace and best opportunity for you if you are an online influencer and know how to partake on Affiliate stuff. 
This bank referral program is more or less different from other online bank referral programs that we have seen so far. All through other banks like VFD, Baxi and other related online banks do some related but this particular one is different and it's legit for now they pay you N500 per person you bring or referral to Vpd online mobile bank. 
Let's get to know the meaning of Vpd and what and what they do apart from the bank that we take them for. 
What is Vpd? 
Vpd is likely an online bank that has a mobile app but different from other online mobile banks that we have out there that part up with team members called Voguepay which is mainly designed to help you convert your currency to other foreign currency like USD, GPD, and so on. 
Vpd bank is said to be just launched which Vpd is once again parting with VoguePay that has been in existence since 2012 and the app was designed to have its own specific wallet that you use to convert your currency example cover Naira currency NGN to Dollars USD. 
Having known what vpd is all about how we move to the main part which is how you can get your own N500 whenever you invite or refer anybody to join the vpd bank and register then download their mobile app let's get to it gradually. 
How To Join Vpd Bank 
To join or be a member of VPN online mobile  bank you will need to;

Register on the app.


And verify your account the same from vpd app. 
Let's get to know how you can get all this done so that you can also start referring people to vpd bank and earn N500 per person you bring to join the bank called Vpd.money Vpd bank. 
How To Download Vpd Mobile App
Click here to get to the vpd official webpage or website.

The websites contain some information which will help you. 

Download the vpd mobile app as an android or iOS user. 

Click the play store button you found on the site to download the Vpd android mobile app. 

And click on the app store logo icon you find on the Vpd official site to get your own vpd iOS version app download. 

After you have downloaded and finished the installation process what else is to register and get your account verified. 
How To Register On Vpd Bank
Open the if you have just opened it.. 

You will be asked to sign up for the app and if you have opened the app before finding the signup or register button. 

During the registration process, you will be asked to provide some info. 

Which entails Your BVN Bank Verification Number. 

And other information that will be used to confirm you are the owner of the BVN. 

Which entails Name that was attached to your BVN, date of birth, phone number, and email. 

Make sure the details are tally with your BVN and accurate. 

You will be asked to provide a Referral Code which your referral code is Q59G1F and is necessary, compulsory to use the code. 
Provisions Of The code which is Q59G1F is very important to avoid error and failure to get your account verified. 

After that, you will be asked to provide a username, password, and pin. 

Go ahead and provide it to continue your registration. 
When the registration process is done what else is to log in and get yourself ready for verification. But before that. 
Note: That nobody or even the bank can make use of your BVN to carry out any transactions on your other bank linked with it, so your BVN is 100% safe with the bank. It's being requested to verify who you are thoroughly here. 
Now we move once you log in. The next thing is to provide them with a selfie of you taking a picture of yourself with your phone. 
Take the picture well just to avoid delaying on your account verification. 
How To Verify Your Vpd Account 
That's what most people ask about and actually don't know how it goes. 

The information you provide on the vpd app when registering will be used to verify your account. 

The first phase is to go to your email and check the mail they send to you after or when registering. 

Follow the process to verify your email and proceed to the next process. 

Most importantly provide referral code Q59G1F when registering.

Make sure the information you provide on the app when registering is tally and correct with the one that is attached to your BVN. 

When taking your Selfish with an app make sure it is clear and you should be well identified, view the picture or selfie you take. 

After you follow all above processes then you have to wait for at least  12 hrs for your account to be verified by the vpd admin there self. 

The verification is being done by humans and not robots so no any means of fraud referral or self referral. 

No they don't allow it for you don't have to try it. 
When you are waiting for verification you can then use the moment to invite and tell your friends about the app by using your referral code directly from the app. 
Let's get to know how you can get your vpd bank referral code. 
How To Get Vpd Referral Code or Link
No referral link required, it's just a vpd bank referral code. 

To get your referral code follow the steps. 

Once you log-in to your account view the app. 

Below click on the last option button which will list some options for you. 

Find the option menu named Referral there. 

Click on it and fetch your referral code view the share button. 

You can then invite your friend and earn a view vpd bank one of the legit ways to earn per refer. 

N500 per person you referral to the bank. 
Some people still wish to know how and what they will see on their vpd account before they notice that their account is being verified. 
Contact Support Note incase your Vpd bank account failed to be verified after 12 hours from the time you registered then all you need to do is to contact there support team either through live chat, phone call, Facebook, twitter or Instagram. But phone call and Instagram are recommend check out link to contact them below or check your vpd bank app to get that done.
Vpd Contact Support List
Click here to contact them on Instagram.
Call them using this number : +234803 6314018.
Contact them via email using this mail: support@vpd.money you can get there contact direct link for.
Twitter support contact click here
Facebook click here to contact them.
How To Know If My Vpd Account Is Verified 
First you will be notified on the email account you use to register for vpd. 
That your account has been verified that you can now carry out some features on the app. 
And also you will find out that your account has been upgraded from level 1 to level 2.
Which makes you a verified member of vpd bank. Vagoue digital pay done from their admin.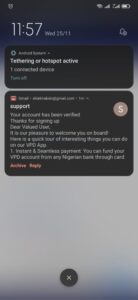 Some people are still confused about how they can withdraw their funds on a vpd mobile app either for iOS users or android users. Let's get to it. 
How To Withdraw On Vpd Mobile App
After you have gotten some fund available on your vpd wallet. 

Because the app is designed to make every member have his own wallet. 

To withdraw located the plus + sign button that can be found.

It can be found below the app menu in the middle of the menu button. 

Click on it and you will be left with a different option to withdraw.

The best part is to withdraw to your local bank view bank transfer. 
That's all about the withdrawal process you can also play account with the app to know how you can receive, or fund your vpd wallet using the mobile app. 
Is Vpd Legit Or Scam? 
Vpd is an online bank with a big innovation so you can find or fraud stuff related to them. Or if they per taking in any fraud stuff. 
For your info vpd bank is legit and not a scam.  For they will pay you for what you are told to do if you do it well as stated in this article. 
You can also request for vpd virtual card as well that can be used to make some transactions online.
Some Related Vpd Referral Withdrawal And Cashouts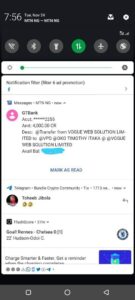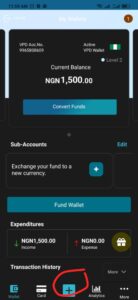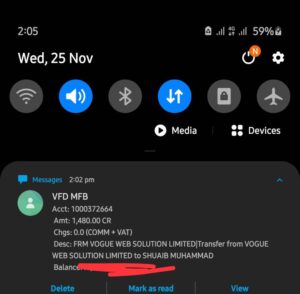 What else would you like to know about vpd? 
Let us now view the comments section and we look into it together. 
What are you still waiting for?  Click here to download the vpd mobile app and use Q59G1F as your referral code when registering. 
Join our telegram channel for fast updates.