Although we enjoy the great Airtel offer of 9GB Data for 2000 also 6GB for 1500 etc,
Now it Mtn 6GB at the same price.
But it seems this offer is not eligible for all airtel users or offers been disabled by my Airtel network provider Now we show you How To Activate MTN 6GB For 1500 Naira.
What Makes's me said is disabled was that Normally if you want to subscribe to Airtel 9GB for 2000 you dial the code *144# which will arrive and bring the option to select Or Make selection of your data plan 9GB data plan.
But now it seems the option is quite different now as shown in the screenshots below.
Airtel Does not offer data of 9GB for 2000 again has was discovered or it likely involved Sim selection for now.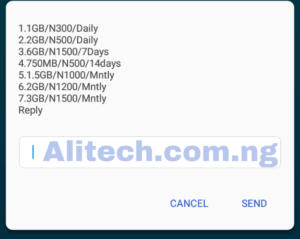 There cheaply available data plans are listed above as shown in these screenshots,
This brings about the Airtel 6GB for 1500 valid for A week. 
Mtn also introduced or added a similar data plan to their service which brings us about these posts on how you can activate it. politely it a cheap data plan, which I suggest you should go for on both Network Service (Mtn and Airtel) variety depends on the one with higher speed in your area.
MTN has just added another exciting weekly data plan which is similar to that of Airtel 6GB for 1500,
The data can be used on any device, be it Android, iOS, or Laptop, and valid for 7 days and you don't need any VPN app to power up the data.
How To Activate Mtn 6GB And Airtel 6GB
To Activate Mtn 6GB for 1500 < you just need to dial *131# on your phone dialer and select Data plan Then weekly  plan, That's all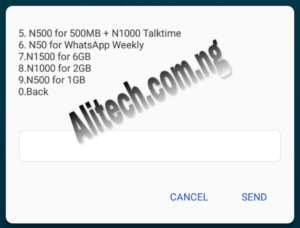 In Remembering
To Activate Airtel 6GB for 1500 < dial *144# and select the 6GB data plan for 1500 or you simple dial *141# and select the 6GB for 1500.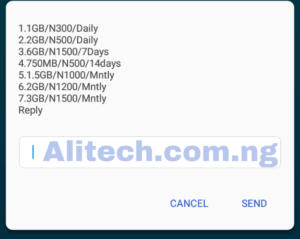 Validation period Of The Data Plan
These Data plans on both network providers (Mtn and Airtel)  are just valid for 7days,
has said earlier so you just have a week to make use of the 6GB data to stream,
download and stur the internet etc.
Mtn 6GB Data Plan Still availaible ?
Actually, these data is still active,
for we have been making use of it so you can still stand a chance of getting it to activate, grab your mtn simple, and start flexing your 6gb data, especially at these fun periods.
If you have any questions kindly use the comment box to lay it down and wait for an instant response Thanks.