Here we present to you again rapido run smart contract, a smart contract that is about to be launched soon we wish to make the review before you guy's will go ahead and register with your ethereum so that you will accumulate from rapido smart contract. But remember our review will cover-up both the negative and the positive part of this platform just like we make our review on forsage, lionshare and autoethbot in 2020 all work in the same ways but little difference behind them.
Lately, a lot of smart contracts as been trending online which make most people accumulate a lot of ethereum
online just because the way ethereum cryptocurrency rise daily so genius online plans to design something that
was programmed just to make people accumulate ethereum unlike miner and a lot of people has achieved from
this which as make a lot of people rich from forsage, autoethbot, lion share and now we have rapido run
smart contract. 
The Rapido run smart contract or rapido smart contract is yet to be launched, that is it's not yet online, unlike
lion share that was launched some week ago which people are still joining the smart contract so we choose to
say something about it before it's being launched. 
What Is Rapido Run Smart Contract? 
Rapido run as the name implies and as we have been hearing which range from forsage and lionshare are all
defined in the same ways they are all a program which is being embedded on a blockchain just to automatically do some job when it's being altered. The job of a smart contract mailing is to work smart and in the aspect of rapido and others they work smart to help people to accumulate more ethereum. 
That's just a layman definition of what rapido run smart contract and other related smart contracts means. 
Other people in term of defining a cryptocurrency smart contracts for ethereum they said is a decentralized
the program which works in such a way that nobody needs to tell the program what to do and it's being embedded on a blockchain just to help in the accumulation of the cryptocurrency called ethereum.

Of recent, the Price of ethereum has been going higher just as it was predicted as of when this article was written it was 140k in Naira where by and $362.53 In Dollars which crypto miner and predictors predict that ethereum will be very high before the end of 2020 entails December which is a good time or moment to join rapido smart contract when it's being launched so that you can accumulate a lot of ethereum as you want before the end
of the year.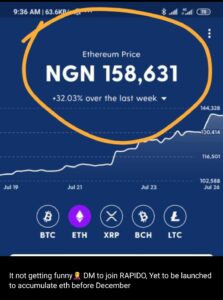 How Does Rapido Run Smart Contract Works? 
Smart contract of Rapido run works in similar ways like lionshare and forsage as we said earlier the platform and
the owner program it's to help you accumulate ethereum which contain some levels that you will have to register
with some amount of ethereum before you can partake in the ethereum accumulation process. 
Rapido Run Contain The Following Level And Sublevel
X3 Of Rapido X3 Level

Level X4 Rapido X4 Level

And Rapido X8 level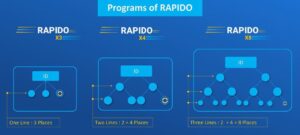 As you know in other smart contracts all levels contain sub-levels that are classified below each one. Rapido X3
contains three sublevels attached with three down lines or Referrals which you can find your ref from there.

Rapido X4 contains two sub-levels that make the overflow to occur depend on the sublevels you purchase on
rapid X4.

Lastly, Rapido X8 has its sub Level too which contains three sub levels like rapido X3 spill over and overflow
occurs here too which seems to be the major difference in comparison with the other smart contract.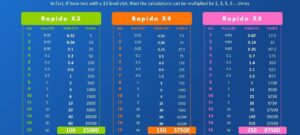 How To Register And Join Rapido Run Smart Contract 2020
You will need ethereum 0.03 which is the main ethereum you will use to register.

And extra 0.02 or 0.03 ethereum again which entails what will be called a gas fee or network fee.

All together you will need to purchase 0.05 ethereum or 0.06 ethereum up to 0.07 or 0.08 ethereum before
you can join rapido run.

The ethereum is recommended to be on your trust wallet for mobile users and Metamask wallet for
PC users.

The amount of ethereum depends on how the gas fee is high or the network fee is high.
The high price of the network fee depends on how the ethereum is being requested at that moment.

Now after you have gotten the ethereum what else is the registration process.

Get the registration link from below or copy this ( https://rapido.run/Auth/Register?refferal=0x6ccb9e4AE0570D93eC86C5f6EF9BF42005A7E2d7 ) to your clipboard.

Note: the platform or smart content has been fully launched. 
Open your trust wallet and click on the second menu option button that can be found below the
trust wallet menu bar.

Click on the place provided to input a URL and paste the link you just copied.

After the rapido run page has loaded hit on the join now button.

On the next page click on the To register and wait for the process to complete itself.

Approve the transactions.
After that, you will be taken to your rapido run dashboard.


From there you have successfully been a member of rapido run smart contract. 
You can use the link to join one of the strong Rapido run WhatsApp groups. It's said to be strong because
they wish to work hand in hand. 
JOIN RAPIDO RUN WHATSAPP GROUP TEAM
Is Rapido Run Legit Or Scam?
If you read this article from the beginning you should know by yourself that this platform (rapido run)  is
not a scam platform and has nothing to do with scammers. 
In such a way that nobody operates a platform on the backend doing the payment process, it's something that
has been programmed to operate automatically that nobody can hold your payment when you are supposed to
pay you will be paid instantly when you work for yourself. 
The smart content simply helps people to earn money viewing ethereum at home view
online money-making process. 
As we said earlier this platform is somehow similar but they have their major difference which we are about to talk about now. 
The major difference between rapido run and. Lionshare smart contracts are :
Rapido run contains three levels that have sub-levels X3, X 4, And X8. While Lionshare has just two levels with a submatrix attached to its  Level L1 and L2.

Earning processes on Rapido Run smart contract range from referrals,  overflow, and spillover which are shared with level X3, X4, And X 8. Lionshare earning processes are also from the same parts with rapido run but it's being shared with the two levels L1 And L2.

Sub levels on rapido run are up to 45 while on lionshare is lesser it's only as few matrices that can make you continue earning without knowing stop.


Lastly, they both operate with similar source code which is programmed to operate openly. 
Major Difference Between Rapido Run Smart Contract And Forsage Smart Contract 
Rapido runs the major difference between forsage is just the levels and sublevels.

Which rapido run contains level three with sub-level (Level X3, X4, And X8) and forsage has just two levels which are X3 and X4.

Forsage contains sub levels under each level which is up to 24 and rapido run as sub-levels up to 54 respectively.


They are both smart contracts and operate in the same ways. 
Rapido run smart contract Vs Forsage Smart Contract
Rapido run and forsage which one is the best or rapido run smart contract and forsage smart contract which on is better:
As we are talking right now rapido run as not being launched but forsage has been into Existence since
fed 2020 which most people don't notice about.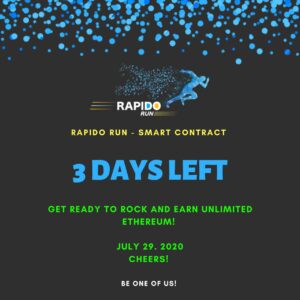 But now rapido run is yet to be launched but will be in July a few days left which is the best time to gather
your team together now and accumulate your own ethereum for good.

We can judge but to what we observe above rapido run it's still safe because most people have already
accumulated enough from forsage already with almost 700,000 members. 
But that should not stop you from joining if you feel like. 
Rapido run and Lionshare which one is the best or Rapido run smart contract and Lionshare smart contract which
one is better:
Lionshare or Lion's share smart contract was launched in early July 2020 is already launched and people are
already accumulating from the platform. While Rapido runs also will be. Launch in July 2020 ending of July which is not launched yet from these two observations.

Is now left for you to choose the best out of the best or better out of the best.
We've just made the point clear to you straight forward. 
We stop from here and wait till rapido run is being launched and update this article for more review. 
Don't lose this chance if you already lost the chance of forsage and lionshare this is now rapido run. Let's run and
earn some ethereum. Join our telegram channel for fast updates.