Recently mtn added some new numbers which were added to the old ones that are now Mtn new sales contact numbers, actually it was announced officially by mtn themselves on their twitter page and other social media pages. 
So we  to think about and look around that most of you guys might not know about the updates from mtn, they add the new number prefix as of yesterday and it now available for purchase in any mtn shop outlets, That is Any mtn new sales contact shop that might or be close to you. 
With the introduction of the new mtn number or the mtn sales contact number make a lot of their contact to be happy about it, which seems they know the new numbers to join the family. 
It is likely that this action will or might bring a lot of customers to mtn network services because the new numbers prefix seems to be present in a favorable way. I think you know what I mean by that. 
The presentation was made on there twitter page as show in the screenshot below :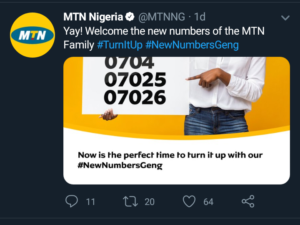 Below are the list of the new number prefix and the old number prefixes.. 
Mtn New Number Prefix 
0704

07025

07026
Mtn Old Number Prefix 
0803

0703

0903

0806

0706

0906

0810

0813

0814

0816
For your info the new number is now available for purchase as you can see it already been introduced by them. 
So visit any close by mtn agent shop that might be in your area then go get a new number if you feel like. 
Don't forget to join our telegram channel for more latest updates. 
What is your opinion about this new number prefix?