MTN made an announcement song days ago that they are old MTN app or old my MTN app will stop working forever and make it official to bring up something like MTN spin & win promo in 2022.
This latest MTN spin & win promo is officially provided on their latest mymtn app which can help you stand a chance to win a free airtime voucher to purchase something from my MTN app or a smartphone and many more.
This article will actually talk more about the MTN spin and win promo 2022 that has just Unleashed on the recent day October 31st.
You can say Toby was designed as a promo season for MTN customers who gain access to their mymtn app which will also see another and that it's something that can make more people know about the latest mymtn app.
About Mtn Spin & Win Promo
This MTN spin and win promo or spin and win freedom is something that has just been announced and produced by MTN network providing access to their customer in general.
This can make you earn a lot of gifts like getting free MTN airtime when you spin or getting a free voucher up to 100,000 and stand a chance to win a smartphone.
Is it not specified that once it's been you can stand a chance to win there's also a chance that you can also Lose or not get anything once you are among the people that were able to make it spin from the game that is provided on my MTN app.
It is designed to be spinning our wheels which means every specific user that has been assessed on their latest mymtn app can actively from the page that is provided by MTN users and start a chance to win in the range of 60 minutes. 
All you need to do is just get the requirement ready and follow up with the steps you will use to stand a chance to win when you spin, as we stated below. 
This is free of charge and no one will charge you for partaking or trying your own luck because it's a game that can help you to win or lose once you spin.
Requirements For The Mtn Spin & Win 2022
The October 31st 2022 MTN spin & win free gifts requirements are:
Get yourself a smartphone device like an Android or iOS device. 
To your Google Play Store or app store install to update my MTN app or download it directly from there if you don't have it earlier. 
Once that is done you will need to log in to the app which you can use the truck or provided step below to get that done. 
You must be an active MTN user or MTN customer that has an active MTN SIM that is programmed with a number. 
After you get the requirements you should follow up with the guide or procedures that we will be listing below step-by-step so as to get things done.
How To Partake On The Mtn Spin & Win Free Gift 2022
Download my MTN app from your app store or from the links that are provided above. 
After it has been downloaded and installed on your device you will need to log in using your MTN number. 
Which ones are open they have you will be asked to log in with your email or phone number was recommended to log in with phone number. 
After you provide your phone number you should click on the continue button which will punch you to provide a one-time password for verification. 
The password will be sent to the phone number that you provided which you will need to copy it from it and offer it on the space that you see on my MTN app. 
After you provide it's this you love you into my MTN app it should let you see the spin and win a spin button on my MTN app main menu. 

Then you cannot go ahead to click on it which if you are lucky is still on within the minute provided for it should spin and will engage you with what you win or lose. 
There is massive traffic that is loaded with my MTN app spin page right now which marks some error message once you click on the spin button. 
So apart from the 1-hour specific time that is provided for displaying the page before the countdown ends. 
You should try your best to visit the Spain page in the next 10 to 5 minutes before its release. The 60 minutes provided for it can now be.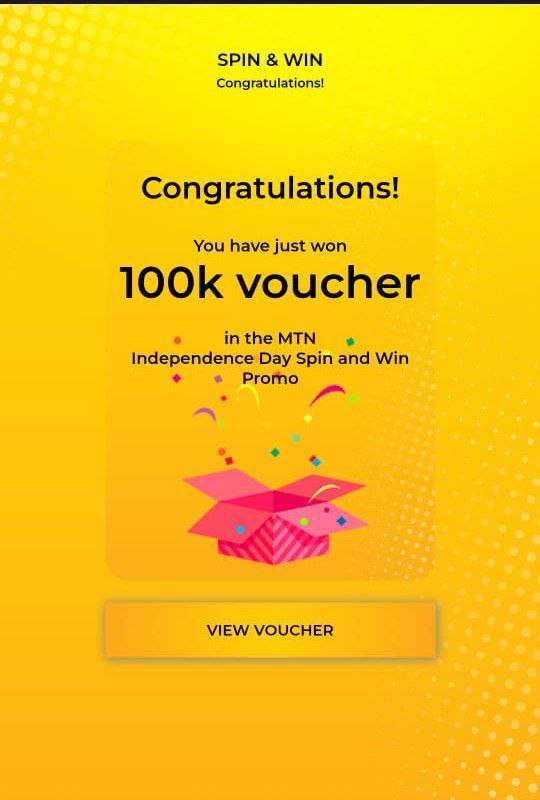 That's just how you can partake in the MTN spin and win promo 22 or spin & win a free gift that can engage you to earn a free smartphone voucher or airtime. 
Go ahead and try your luck and see if you can stand a chance to win anything before October 31st runs out.