Technology keeps growing on a daily basis which makes most devices like hundred and iOS add more features to the smartphone device that makes us have this particular article on how to send SMS for free using Google messages here is one of the great features that will like to know about this application if you have been making use of it before and if you have not been making use of it earlier.
Google messages now allow users to send a free end-to-end encrypted SMS or messages which is something you should know and it's some kind of future that you should learn to make use of. That is what we are about to talk about in this article.
But it would be better for you to know some details about the application if you don't know about it before so stick to the end of the article so as to get the full gist about the latest free SMS sender.
About Google Messages
Google Messages is just an application that is designed for most Android devices if you can find it already installed on most Google pixel phones and some of the top Android devices that make use of Android 12, 11, and so on and so forth.
This application is used mostly to send messages or SMS to users which are tagged as one of the default apps that you can use to message your friends through SMS with the help of your network providers.
Back-to-back they have been adding more features to the app which we now have ways that you can use to send free end-to-end encrypted SMS on the Google messages app.
Babymetal to know about some of the features before we join up on how you can actually start sending your free SMS on this app that is powered by Google.
Features Of Google Messages
Below are the latest features that you will experience from the Google message, unlike the free SMS service.
A chart is now available on the app which you can use to boost your conversation.
You can now share quality image Media without extra fees by just using your own personal network.
A group message cannot be sent with the Google messages app which is the simplest form of communication.
Messages can now be accessed through the app on Dark mode features for those that don't like the light mode.
Also allows you to text anyone either on your phone or you making use of your laptop or personal computer.
The night mode features allow you to get caution off your eyes which Makes brings about that mode features.
The Google message app can be linked with Google Assistant so as to provide you with the appropriate information through your conversation or chat.
The messages app also allows you to get more of its features done with fewer tabs.
You can summon a payment from the app by just typing a few words.
You will get to know about some basic features that you can see on the app once you install it on your Android device for now the app just supports most Android device that is not yet designed for an iOS device so now we are going to be moving to what actually brought about this article which is how you can send SMS for free on Google messages app.
Make sure you read about the above before you go ahead to know about these amazing features.
How To Send Free SMS On Google Messages App
The first thing you need to do is to go to the Play Store or Google Play Store and download the messages app or Google messages app you can also get that done here.
Once you get to the Google Play Store and you find the app already installed on your device you can just go ahead to click on the update button so as to update the app to the latest version.
If it's not installed yet on your Android device you can go ahead to use the install box for 2 hours to install and download the app on your device.
That is done, then you can now open the app and give or Grant up all access that is requested.
You can now click on the three dots button that you will find on the top right side of the app's main menu.

Click on settings, and select general, followed by chat features.

Then you will need to enable the chat features so as to start sending SMS for free on this Google message.
You can start using the app to send free end-to-end encrypted messages or SMS once you see a lock icon on the send button as shown below.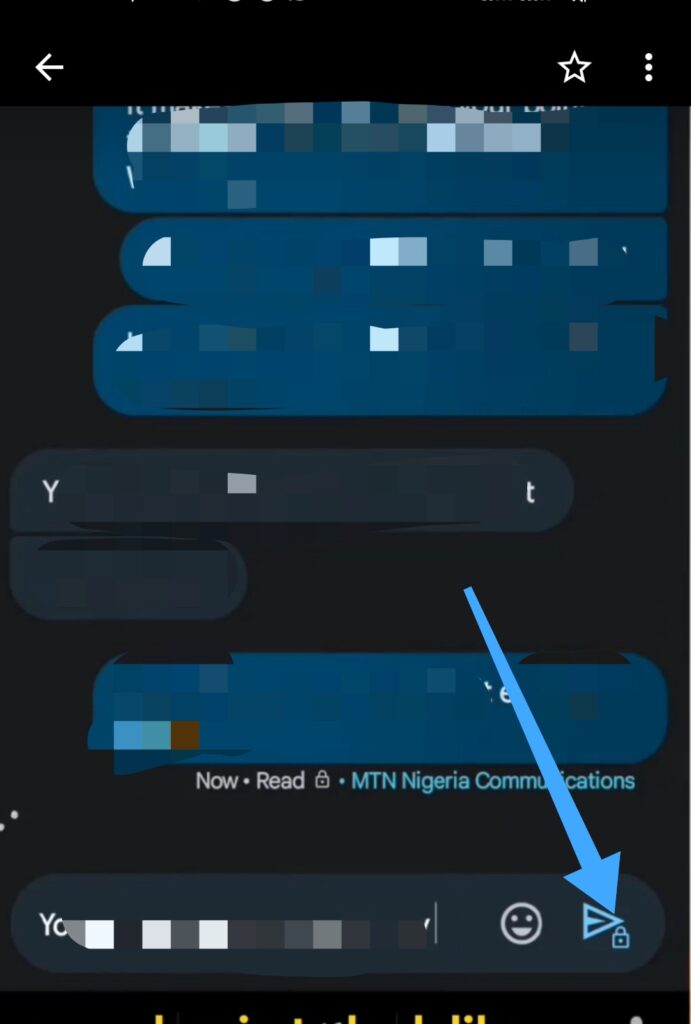 So once you start any conversation with any of your friends and you find the lock icon on the send button and you click on it that message will be proved to be an end-to-end encrypted message which is a free SMS that you just send using the messages app.
Be eligible to send some other files like sending emoji text photos and videos which will be secured with the person you are in conversation or chatting with.
Note: you don't need time to send SMS on this chat features have been enabled on the app the features has been rolling out for most internet service provider or network provider in your area so if yours is not yet activated then all you have to do is to wait and I'm a patient before the features we go globally.
What you need to know about the messages app free SMS features
Before you can start sending an end-to-end encrypted free SMS on the Google messages app both parties must have the app installed on their major Android device.
That is you as a sender must have the app installed on your device and the person you are to send the message to must also have the Google messages app installed on their Android device.
The chat features must be enabled as we stated above which you can also learn how to enable using the video tutorial below.
Before you go ahead to send the message you should make sure that you have an internet connection present on your mobile network or we feel a connection who has to make the chart features come up.
You will see the lock icon placed beside the send icon button on the messaging app that shows that you are sending an end-to-end encrypted message to the parties.
The question you like to ask can be fine on the Google support page for the smart SMS features or end-to-end encrypted SMS features once you try to enable it on the messages app so try to learn more about it so as to know how these features work fully.