You can now make payments of your stuff online, like payment of bills, shopping, and more with crypto using the gotok app virtual cards, online transactions are now made easier.
With the help of the virtual cards that are provided by gotok you will be able to use your crypto assets like Binance Coin BUSD and Solana coin to make payments. 
Gotok app has integrated two different crypto payments gateway asset Binance Pay And Solana Pay to their app which you can use to fund your Gotok Virtual Debit Cards.
That you will now be allowed to purchase or pay for anything you wish to pay for online like paying for your TV shows and apps like Netflix using your crypto assets.
And also pay for any online stuff like paying for your apple music plan, Spotify plan, YouTube plan, and so on. 
With these cards, you don't need to worry about any payment stuff online again once you have your crypto assets like BUSD Binance Stable cryptocurrency and Solana.
That's the major reason which makes us come to review the gotok app that you need to read about till the end of this article.
About Gotok App
Gotok is said to be an application that is designed for android and iOS device users (Iphones) the app is tagged as a smart money app.
That can be to shop and pay bills globally without restrictions in any country just with the help of the Gotok virtual cards you get from the app.
And you will fund your gotok app with your crypto assets like Binance crypto funds or Solana crypto funds (BUSD & SOL).
The gotok visa cards are said to be charged on Amazon which you can use to shop or pay for your goods on this online shopping platform. 
Other shopping platforms like eBay, Aliexpress, Amazon, eBay, Walmart, Alibaba, Shopify, Best Buy, Target, Macy's, Sephora, Nordstrom, and more are not left behind for you can use the virtual card you get from the gotok app to make payments once you fund your account without any limitations. 
Payments of your apple music plan can also be done using the gotok virtual cards without any restrictions or limitations which can be per globally in any country.
Once you get your gotok account and create your cards from your gotok account using the app you are good to go.
You can learn how to get the gotok app followed by the process of how you get your account, fund your account and create virtual cards.
Other music platforms subscription plans like Spotify and others can be done using the gotok app card.
You can also purchase any game online which is what the app plus the cards are there to help you will.
Now let's talk about how you can get this app yours.
Download Gotok Apk
Do You know about this platform or app works what next is to download the app to your respective device both on android and ios devices using the below download link to get the gotok apk to your device.
| | |
| --- | --- |
| App name | Gotok |
| Type | Crypto virtual card Provider |
| Download size | 131MB |
| Version | 1.0.13 |
| Service | Online Payment App |
How To Get Gotok App & Open An Account To Get A virtual Card On Gotok
The first thing you need to do so as to get the gotok app download and installed on your device is. 
Click here to follow the prompt page which should lead to the play store or app store where you will download the app from. 
After you have downloaded and installed the gotok app on your device. 
Open the app and provide your email address to which a verification code will be sent. 
Make use of our referral code 8238160525 when registering or signing up on the app. 
Provide the code the next page is to provide a username for your account followed up with your last name and first name. 

When then is done, you will need to provide the 6-digit code that you will always use to carry out all transactions on the gotok app. 

Lastly, provide your phone number and verify it with the verification code. 
That's just it, you have just downloaded the gotok app and opened a gotok account using the app. What is next is to learn how you can get a virtual card which is said to be instant.
The card is provided to be used for transactions instantly once you activate them.
How To Get A Virtual Card And Fund Your Account On Gotok
You will be asked to fund your gotok account with some funds in the process of creating a card on the gotok app. Learn about it below.
After you've signed up and logged in on the gotok app on the main menu. 
Should see a button labeled New Card with a plus sign. 
Click on it, then you will be asked to provide nicknames for the card. 
Followed up with the kind of card you would like to create a Mastercard or Visa Card. 

Select it and click on next, on the next page you will be provided with the list of payment gates you would like to use and fund your account. 
Binance Pay using BUSD, Solana Pay Using SOL, Reward Using your referral rewards, & to connect to the wallet. 

You can pick Binance Pay since you will be making use of the BUDS present on your Binance account. 
If you don't have a Binance account before you can click here to download the app and open an. An account with them using a valid ID card. 
Once that is done and you've selected your payment gateways e.g Binance Pay. 
You will be asked to provide the amount you will like to fund your account with which Max is $250 at first. 

After you provide the amount you want to fund your gotok account with. 
You can now click on add fund, which will now be provided with Binance pay QR code with some other Info. 
Check the below section of the Barcode or QR code and click on the button Open App. 
You should be redirected to the Binance App which should trigger the payment on Binance Pay itself. 
Then you will need to confirm the payment on your Binance app. 
Once the payment is successful you will see that the money you just fund and will reflect instantly on your gotok app account followed up with the virtual card you just created. 
That's just how to fund your gotok account and how to create a virtual card on the gotok app.
We made mention of reward earned which also makes us speak about referral rewards.
Yes, gotok app has its own referral program which can earn you some rewards if you wish to tell your friends about the platform.
Then make use of the referral reward opportunity to get some commission when they download and fund their gotok account.
Learn more about gotok referral reward below, if you actually wish to tell your friends about this platform.
But before that, we also have a video guide for you on how you can create and fund your gotok account & card below watch it now.
Video Guide 
Gotok App Referral Program
The gotok app referral reward or program is designed in such a way you get 25% on every transaction your friend you invite to the platform made.
That is for up to 6 months if your friends download, open an account, and fund their gotok account you will get 25% of the amount they fund their account with.
And your friend will get 75% cashback instantly on their first deposit or the first transactions they made.
Learn more about how the gotok referral program works below now to start earning from this platform.
How To Join Gotok Referral Reward Program
Use your unique referral link that can be gotok from the gotok app once you have an account with them. That's just if you have joined the referral program.
You can get your referral link and share it with your friends. 
Open the gotok app log-in to your account.
Click on the second button you find below in the menu section.
The button is a reward icon click on it.
That should provide you with the referral reward page.
Use the invite Button to share the link with your friends which is what you will be using for every other friend you wish to invite to the platform.
And you will get a 25% reward once they fund their gotok account.
On the reward page, you can view the referral terms and conditions so as to know how the gotok referral program works fully.
How To Claim My Reward On Gotok Referral Program
All you need to do so as to claim your referral reward on gotok is to make sure.
The person you are inviting or referring to the platform must verify their gotok account using their phone number.
And they should create a card on the gotok app.
After they create an account and verify their phone number, they start funding their gotok account.
They should be eligible to claim your gotok referral rewards.
The more you invite your friends to the platform using your unique referral link you will be able to earn rewards respectively.
You can also check out the gotok referral reward Terms and Conditions which you can see on the referral reward page look below.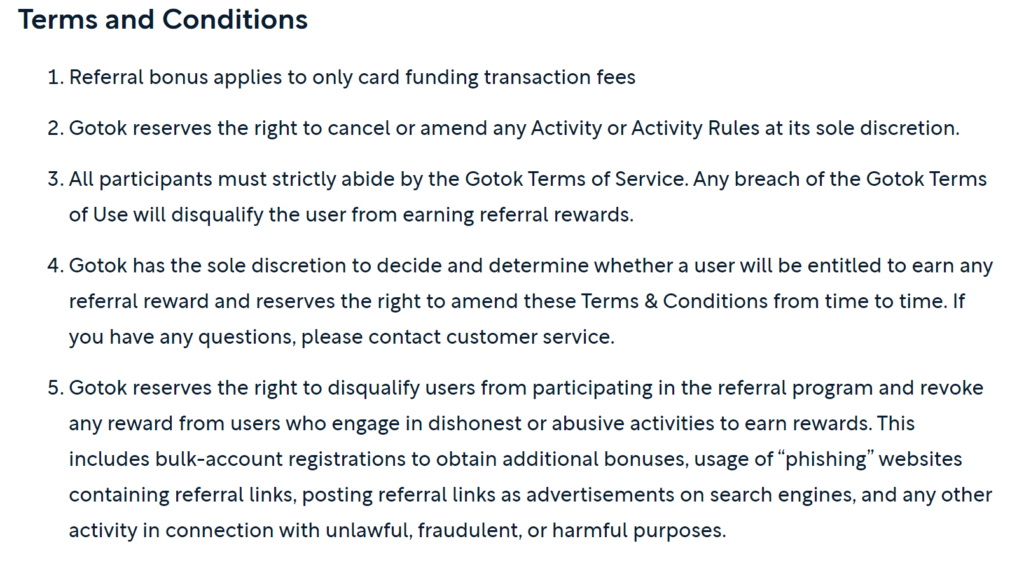 How To Refer To Gotok App
Just get your gotok referral link as we mentioned above then you can keep using them to refer your friends to the gotok app.
How To Withdraw Funds From Gotok App
It's very easy and straightforward to withdraw funds from the gotok app.
Once you create a card and fund your account below.
In the card section, you will be provided with a withdrawal tab.
That you can follow up with us so as to withdraw your funds back on gotok.
Conclusion
About the detailed information you need to know about the gotok app, that was followed with how to use the app and how it works, in general, the gotok app review which is the main points.
We hope you were able to make use of the information we provide and how you can make use of it. 
The Review
Gotok app
That can be to shop and pay bills globally without restrictions in any country just with the help of the Gotok virtual cards you get from the app. 
Review Breakdown
Instants Payment

Fast in Transactions

Crypto Payment gateway