We have found a way you can earn extra cash and purchase your airtime and bills at a very cheaper rate with lots of discounts. It is called chipper cash. With the chipper cash app you will be given discounts on your transactions and you can earn cool cash by referring people. We will be showing you how to make extra cash from chipper cash.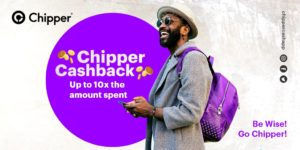 What is chipper cash?
Before we enter the reward section, it is better to let you have the knowledge of what chipper cash is all about. Chipper cash is a simple and secure way to send and receive money in Africa. Chipper cash is the first platform of its kind to offer instant cross-border mobile money transfer in Africa. You can send and receive money from Nigeria, South Africa, Ghana, Kenya and many more African countries. Chipper cash is free to use and you will not be charged for making any transaction on the platform. With chipper cash, you don't need to step out to pay bills. You can pay all your bills on electricity, TV, airtime top up and data just from the comfort of your home. So quarantine and chill!!
How to earn on chipper cash
First of all, Download the chipper cash app from here

Register/sign up with your details ie your name, phone number and email address. A link will be sent to your email address which you will verify by clicking on it.

Go to your profile section and click on "Get verified" then click on "Begin verification". Your phone camera will come up automatically and you'll have to snap your ID card(voter's card, national ID, etc) for verification. Make sure you take a good picture of the ID card in a lighted environment to enable the chipper cash team verify it quickly.

After that, you will be required to take a picture of you holding the ID card in order for them to be sure it's yours.

As soon as your account is verified you will receive #250 for Nigerians and its equivalent in other African countries.

This is the most interesting part. To earn up to #10,000 you have to send money or buy airtime worth #250 then invite your friends to the app. Click on the "Earn" button at the bottom of your screen. Copy your referral link and share it to your friends. If your friend registers through your link and verifies his account both of you will receive #250 each. For example, if you refer 20 people you will receive #250 X 20=#5,000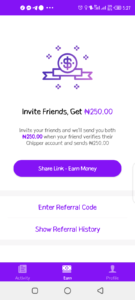 How to deposit funds into your chipper cash app
They are 2 methods for depositing money into your chipper cash app
Go to your profile and click on "Add Cash" then choose your bank account and the amount you want to fund your chipper cash app with.

Go to your profile and copy your chipper cash account number then transfer money to the account.
How to withdraw funds from chipper cash app into your bank account
Click on your profile then click on cash out.

Select the account you want to withdraw to, then input the amount you want to withdraw and your money will be sent to your bank account instantly.
Join our telegram channel for more money making opportunities.