In our previous post, we explained what Facebook Avatar is all about. In case you're wondering what Facebook Avatar is, do well to go through our previous post on Facebook Avatars to understand more about how to create a Facebook avatar. In this post, we'd be taking you through a series of steps and guidelines in order to create and use Facebook Avatars.
As we said in our last post, the feature is not yet available in Nigeria as far as we can tell. But in no time, it'll certainly be rolled out to Nigeria and other countries.
How to Create and Customize Facebook Avatars
To create an Avatar on Facebook is very easy to do, but you first need to have the updated version of Facebook installed on your mobile device then you can now know how to create a Facebook avatar.
To do this, head on to Google Playstore and update the app.
Make sure it's Facebook you're using and not Facebook lite
You can update it from the link here
That being settled, open the Facebook app, and follow the steps below:
How to create a Facebook avatar and customize
Step1: Tap on the three horizontal lines at the bottom-right corner of your Facebook screen.
At the bottom, you'll see "See more", Tap on it
Next thing you'll to is to tap on "Avatar"
Then tap on "Next"
After that, tap on "Get Started" to start customizing your Avatar.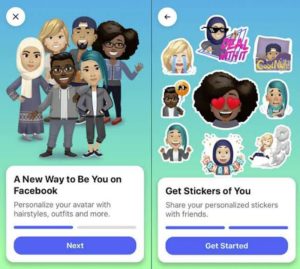 Step 2: How To customize your Avatar
Choose your preferred facial structure. If you can't recall or you find it a bit difficult to recognize the facial structure you chose, just tap on the mirror icon at the top right-hand corner of your screen. That will take you to a camera where you can see yourself and customize and Avatar to your taste.
 Next on the script is to select your preferred hairstyle, be it short or long just as you want it to be. After that, choose the color of your hair them move on to the eyes, eye color, eyelashes, and shape of your eye.
 Then you're to choose your nose shape and also the shape of your lips. You're done with the Avatar's face now, it's then time to put it on nice body shape, so select a nice body shape from the list in alignment with your natural body shape so it could look just like you. Pick a nice dress for your Avatar just the way you like to be dressed.  It's pretty much yours to decide, you can try anything. Just be creative
 You should be done with your customization. If you feel you need a little touch or some extra changes to the Avatar you just created, or maybe you probably want to change the dress, just find the edit menu which looks like a pencil at the top right-hand corner located in the Avatar section. Tap on it and edit.
Step 3: Done creating your Avatar? Tap on "Next" and then "Done"
Your Avatar can be shared with your friends on Facebook and other Social Media Platforms.
How to Use Avatars on Facebook
In this section, we'll be showing you three ways in which you can use Avatars on Facebook, namely:
As Comments;
A Facebook profile picture;
And stickers in Facebook Messenger.

To use an avatar as Comment:
 Tap on the comment section on a post
 Then on the Face icon
 At the bottom of the screen, you'll see a colored face. Tap on it and you'll see all the avatars you've created.
Just tap on anyone you'd like to use

How To use a Facebook avatar as Profile Picture:
 Go to the menu section of your Facebook app, Tap on "See more" and then "Avatar"
In the upper right-hand corner, there are three icons. Tap on the arrow key which would bring up a menu.
Then tap on "Set as profile picture". Select from your list of Avatars and your desired background.
You can also select if you want the profile picture to be temporary or permanent.
To use an avatar as Stickers in Facebook Messenger:
Just like when you want to use an emoji.
 Tap on the face icon that's beside the message box.
You'll see "Use Avatar as Stickers"
After that, tap on the Stickers icon. From the list, you can then use any of your Avatars.
I hope this article helps in assisting you to create and use Facebook Avatars.
Facing any difficulty? kindly drop your comment in the comment box below as we'll be glad to help