Zelf is what we bring to your doorstep today, it's quite been long Since we bring the money-making online platform to you seem it's was since when bundle Africa pays people that refer their friends to the flat, I personal earn 12k (12,000) from the platform yea it's cool to make money online, here is another way to make it online which we present to you '"Zelf'" pays their customers €5 worldwide but in which way and how do they pay, don't worry we are about to discuss that now. 
It's so awesome and is also happy to share this with my readers and humble followers we will stand a chance to
from zelf by join follow some easy peasy procedures which won't take ys long to earn money from zelf we can
earn even money than the €5 mean five euro that was mention, but before we go further we will like to know
what zelfer is all about before we proceed to jump into it, let's check it out. 
What is Zelf? 
Zelf is an instant money messenger bot that is used to send and make some payment just like a bank and do transactions with the note from several social media like WhatsApp, Telegram, Facebook Messenger, and Viber.
The zelfbot is unlike Leo messenger bot which people use to make transactions on view Facebook messenger,
but this is just quite different from other supported features because that just what it's based on sending and
receiving funds view a chat. 
In short words, zelf is a bank but they offer their banking services in different ways to make stuff easier for their
customers when trying to make transactions, Zelfer also offers their customers free ATM, which they join
collaborated with Master card one of the best AtM service cards we know just to offer their customers Atm to
make transactions anytime they feel like using it. 
The Atm can be used to make payments and receive on any Atm box available in your area and can be used to
make transactions online since it's only a support MasterCard for now. 
We make mention of €5 which is the interesting part of this article how we can get the €5 from zelfreview and
other ways which we can earn from them we will like to state it below. 
See: how to earn money online
How To Earn From Zelf
One can earn from zelf through registration, you get five euro €5 instant registration bonus when you
finish the setup of your account.

You also earn yourself another €5 when you invite your friends to join zelf which is part of the interesting
part.

Imagine when you refer 10 people to the platform through their referral program, how many euros you
have earned so far, in a situation whereby €5 in Nigeria currently is 2000 Naira plus.


So what are you waiting for? Let's get to know how to join, register, and start earning from zelf. 
How To Register On Zelf
There are several ways which you can use to join zelf, but they are popular social media which we know we've
made a list of the above before but we list it again. 
Facebook message

WhatsApp

Telegram And

Viber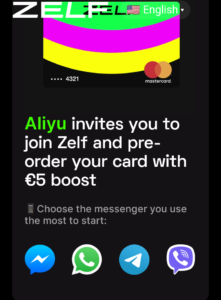 With the list or you having access to any of the social media listed above you will be able to join zelf platform, to
me I choose to use telegram which am going to explain below how I join with their telegram not. 
How To Join Zelf View Telegram 
To join Zelf with your telegram click here

You will be redirected to a page as seen below:

Then click on the telegram icon as shown above.

From there you will be taken to a zelf telegram bot account.

Click on the start button, to begin with, the registration.

You will be asked to click on the " I want card" button on the bot.

Click on it then you will be asked to provide your phone number is international ways

Example : for Nigeria we use the country code of +234 to present the number you will type in this way "+234706667987".

Then a code will be sent to the number for verification as an owner.

Copy or Note the code and send it to the Telegram messenger bot.

What next is to provide your name your full and real name which will be provided on your card (Atm card)

Go ahead and input your full name e.g "Aliyu Ismail" as my own name.


Then Boom you have successfully got a card and have a zelf account, your account will be loaded with €5 registration bonus as stated above. 
You can hit the button "My Zelf" to check your zelf balance, what else now is to know about the referral on zelf. 
How To Join And Get Your Referral Link On Zelf
You have already laid the founder what I mean by that was you've already reached where and how to get your
referral link if you follow the step which I use to join zelf. 
Just go ahead and hit the button invite in the zelf telegram bot and your referral link will be sent you and how to share it with your friend so that they can join to also get their €5, for anybody you referral earns you €5 and the person you referred to earn the same reward €5 that's if they use your link and also if you use referral link  I
provided on this page to join zelf then you can stand a chance to earn the €5 reward let proceed. 
Zelf Is Legit Or A Scam?
The question most people ask me first whenever I introduce them to any online money making platform especially does that deals with a referral but I will tell you now it's not a scam it's legit. They are legit in such a way that you can confirm from their main site or page they also have a twitter page which you can join too and ask them some questions if you feel like once you follow the steps and procedures as stated above you will get whatever you earn from zelf.
How Can I Send Money On Zelf
As zelf said earlier when registering or before we registered it was stated that he understands any of your body languages so you can send a voice note to zelf bot or text he will understand what you are saying. To send money you can send a text including the person you want to make or transfer the fund to state that the person has joined zelf already. Example ( Send €5 to Aliyu Ismail) indicating the zelfer name. A pin code will be sent the number you use to register zelf. Send it to the bot for transaction verification that's all. You can also use the receiver card number to make transactions by specifying his/her card number instead of a name.
How Can I Receive Fund Or Money From Zelf?
You can still use the same method used in sending to receive money from zelf, just by using voice notes or text. Example A text: Ask Aliyu Ismail €5 Fund. Specifying the person you want to send money to your name and amount you want he/her to send to you. Zelf will ping the personnel and give you feedback on the transactions. You can also receive by sending the sender or telling him/her to scan your QR code for payment and Recurring transactions method via text or voice note.
How Can I Withdraw Money From Zelf?
Zelf fund can be withdrawn once you get your ATM and the Atm being activated just like a Payoneer card, it's been shipped from their headquarter in USA referring to the Payoneer card.
How Will I Get My Zelf Atm Card?
As stated by the zelf bot, the first card will be issued on may 31 so whenever it is to be issued you will be contacted about the card issuer, And virtual card is available for now which is the card that will be sent to you first on May 31 due to the pademic before you can be able to get your physical card (virtual Atm card including sending of the card number, expiry date month/year and the security code.)
I think I have made some clarification on the FAQ above. 
If so then what are you still waiting to go and join zelf now and gain your own €5 from letting keep the spirit of
having faith to make money online Alitech regards? 
Our telegram channel is set to get fast updates on any of our recently published posts and also try to subscribe to our notifier so that you can be notified whenever we published any articles too.