So finally, what we have all been waiting for is here. I know you guys don't know what am talking about now, but make sure to read this article till the very end to know more about the good news am about to share. 
TipBest betting tips is not the regular bet app we have all seen, just read on to get the full info and what it's all about.
TipBest betting tips
TipBest betting tips is an android app that gives out free well-analyzed game tips to its users for bet's sake. 
So what's so special about this app?. Well, that's the question most of y'all will ask now, so let me tell you now. Tipbest doesn't analyze it's own bet tips, they simply post out premium bet tips from other sources to help out users who can't afford to pay for the premium payments of such an app. These sources consist of the popular cross bet, palace bet, feeling bet, and viking bet. Plus the way things are going, they will definitely add more sources soon.
Fee months ago, we published various articles on how to get most of these bet apps but not everyone was able to successfully to get theirs, nowhere is a way better solution, as you don't have to stress yourself for anything nor pay for any premium plan to gain access to this app and everything is quite easy to understand too.
TipBest bet tips features
Premium tips for free
As mentioned earlier, tips in this app are well-analyzed tips by professionals from different bet apps. Other bet apps come with huge subscription plans that are kinda too heavy for most of us here to handle, but tipbest has made everything quite easy for us by providing these paid plans for free.
Easy to use.
Navigating through this app is not much of a task as everything is straightforward, there is no long process to anything on this app and it's more like the other bet apps out there.
Consist of multiple sources of bet tips
TipBest app consists of multiple sources of tips not just focusing on one source, this makes it handier as users can now use different bet tips at a time to increase the chances of winning even more.
Allows users to interact
This app also has a designated section to allow users to interact with each other in a group chat. This is also quite handy as more tips can be shared with users to have a more accurate bet.
Download links
Now you must have been in a hurry to get this app already. Well worry less as the download link has been added below. 
DOWNLOAD THE APP AND SHARE FOR MORE WINS! 
How To Install 
To install tipbest app is just the same as installing other android apps. Follow the steps below for detailed steps on how to install.
First, download the app from the link provided above and save it to your download file.
Now ensure that your device is set to allow installation from an unknown source, (to do that easily go to settings, security, and make sure that installation from an unknown source is allowed.)
Now locate the downloaded app from the download file and install it directly from there.
Launch the app and have a wonderful time!.
Additional information

App name 

TipBest betting tips

App size

9MB

App version

V1.0

Developer

TipBest

Supported device

Android v4.0, and above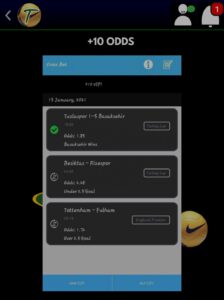 Always ensure that you are subscribed to our telegram channel by clicking here. We will always keep you informed about the latest tips and tricks concerning technology and more.