Unlike how you enjoy the campaign that was set A-side by opera which is called the opera shake and win promo, here is another one that is known to be Tecno Spin and win. 
This Tecno spin & win promo is more-or-less like other campaigns that you have been doing or partaking which this campaign can earn you a free Megabook T1 PC from Tecno, a smartwatch, free airtime, and other accessories. 
We've shared with you guys different spin and win promos which we also have WPS spin and win that we've also discussed earlier. 
This Giat Africa mobile phone provider tecno now launched its own campaign or promo for its customers and non-customers which can get them to earn some physical and virtual rewards.
Tecno Spin And Win Promo
This promo has just been Launched by Tecno to feature most related IOT devices they provide which the official campaign page is named or called TecnoAiOT.
Once you partake in this campaign and you were able to spin, then it should be stated that you have a 50/50 chance of winning a free Megabook T1 PC by tecno, Smart Watch, Sonic 1 Airpod, Free airtime from 50 to 500 and other cash prizes. 
This tecno spin and win promo was just being launched on May 29 2023 and it's stipulated to end on June 11 upcoming month.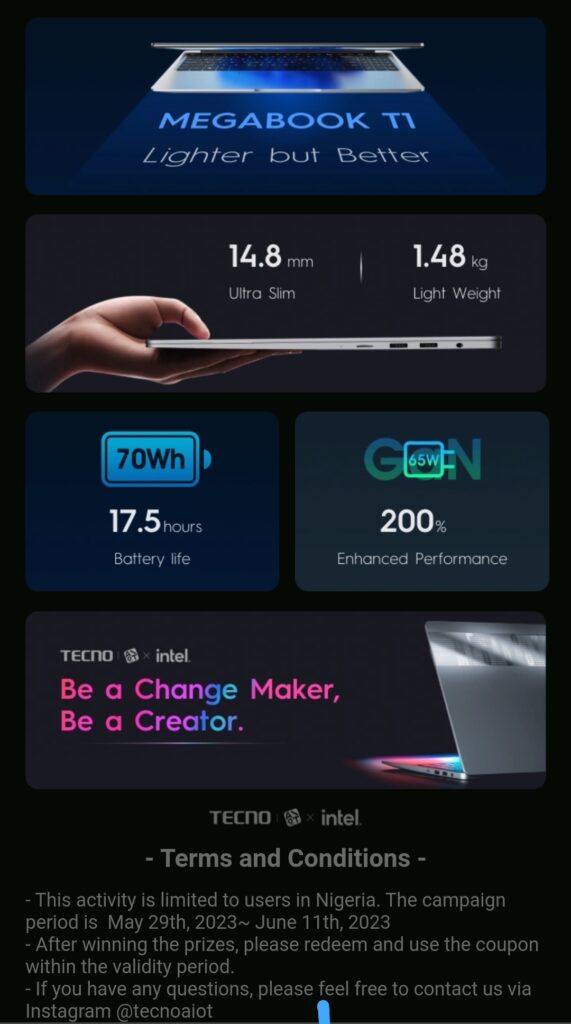 So it's best for you to join the campaign or the contest Spin then you should know what you will be lucky to Win.
But also you should have it at the back of your mind that not every time you spin you will win a cash prize there is also a zero chance that you might not even win anything if you spin sometimes.
So the cash prizes that are attached to the tecno spin and win promo are stated to be 50/50 change you can just keep visiting the contest page and try your luck.
How To Participate On The Tecno Spin And Win Promo
The Tecno spin and win page can be located by clicking here. 
Once you visit the page you will be provided with some tasks. 
Which you will need to do before you can spin the Wheel. 
The first task is to follow the TecnoAioT Instagram page. 
Like the campaign post and also share the contest Spin to Win Magabook T1 & airtime link with 2 friends. 

Then you should now stand a chance to spin your first wheel. 
Once the task is complete, you can now stroll up to see the Spin wheel. 
Tap on the wheel for it to start spinning, which after the spin is completed. 
You should be provided with what you win in general. 
There is a 50% chance that you might not win anything. 
After you see the wheel you will see everything you can win from there and other gadgets followed up with some list of airtime. 
How To Get Unlimited Spin On The Tecno Spin And Win Promo 2023
After you've completed your first task on the campaign page. 
You will be prompted to carry out the same task again so as to earn another spin. 
By sharing the campaign page with your friends again. 
How you can earn unlimited spin by closing the previous page you opened. 
Now re-open the page again 
Go to the task and partake in them again. 
Then you should earn yourself a fresh spin which is one of the ways to get an unlimited spin. 
An alternative way is to keep sharing the campaign link you get from the page with your friends so as to earn more spin.
And also stand a chance to win the megabook T1 PC followed up with free airtime from 50 to 500 and other gadgets. 
Recorded Rewards So Far From This Promo
Bottom Line
What have you won so far on this tecno spin and win promo? Let us know in the discussion section if the promo favored you or not.