Need some free airtime? Well, it's about time you get some from Shareit Lite v3.2.89. This freebie has been around for a while so if you haven't benefited from it, you can still grab yours while it lasts.
For the record, Shareit Lite is simply an app that lets users share files between themselves. More like xender, it uses WiFi connection to swiftly transfer files. The app now awards users for using its app it awards users for signing up, for sharing different app with friends, and for also spinning.
The point you accumulate on the app can then be converted to airtime which will be sent to the phone number you registered with, regardless of network. While registering you should ensure to use a number you'll like to use the airtime on as it can't be changed.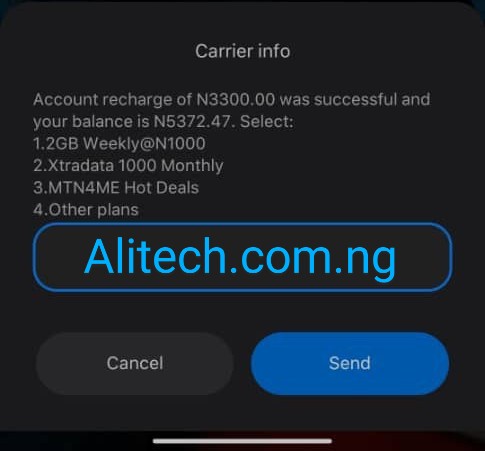 Users can get free coins by performing some tasks on the platform. These tasks include:
Signing up on the app using our referral link gives you an instant 6000 coins when you use the code 51973.
To register
download the app from the link provided below.
After downloading the app and install, open the app
After opening, you'll get a pop up to claim your welcome gift. If you don't see any pop up, just click on the "me" tab.
Register with your desired phone number. Omit the first zero from your phone number.
Now, a verification code will be sent to the phone number you register with, enter the code in the box provided.
Click on continue to complete the registration.
You now have to claim your 6000 coins bonus. To do that, click here or simply tap on the box at the side of your screen, select the invite code and enter "51973" into the box provided.
You'll be rewarded with the 6000 coins instantly.
Spin the wheel
With the lucky spin, you get to make up to three spins daily, this spins award you with random coins. You also get to spin up to 10 times for the first time.
Upon registration, you also get awarded with a diamond box, open the diamond box to hopefully receive more coins. The amount of time you can open depends on how many you've been given.
The most reliable way to earn more coins quickly is to invite your family and friends. For inviting your friends, you both get awarded with coins, so it's a win-win situation. For each person you refer, you get 5180 coins while the person you refer gets 6000 coins.
To get your invite code, go to your dashboard and click on the invite code " 51973 ". Copy your invite code from there and share it with friends.
Download the app from the playstore here.
Click on here to redeem your free 6000 coins after registration and input 51973 as your invite code. 
How to redeem coins.
To redeem your coins, follow the guide below.
Open the app and go to your dashboard.
Now click on your balance at the top of the screen.
Your phone's browser will automatically open up and you'll be directed to a Web page.
From this Web page, you can select the number of coins you want to convert to airtime. You'll receive your airtime after selecting your choice.
The minimum to withdraw is 5150 coins which is equivalent to ₦50 and the maximum to withdraw at once is 5150000 which is equivalent to ₦50,000.
Additional Information
| | |
| --- | --- |
| App Name | Shareit Lite |
| Type | App Sharing System |
| Version | 3.2.89 |
| Download | 50,000,000 |
| Latest Offer | Get Free Airtime |
| Prize | More Cash Prize and Offer |
Subscribe to our telegram channel to receive more updates on how to make money online. Click here to subscribe now!.