Samsung Galaxy Note 20? What do you think?
As you have known that Samsung is the brand that is arguably the first among the rest when it comes to the production of Android Phones. This particular brand has succeeded in making very satisfactory mobile android smartphones that can easily compete with the unique smartphone brand, Apple.
Brief Introduction
Samsung in the early part of this year, February to be precise, on the 11th, released their latest high end flagship, the Samsung Galaxy S20. I know that most of you must have heard of this amazing brainwork by Samsung that is made up of both beauty and very 'crazy' specifications. The Samsung Galaxy S20 came in three variants; the Samsung Galaxy S20, Samsung Galaxy S20 Plus 5G and Samsung Galaxy S20 Ultra 5G, and these variants come with different features that are very amazing and you may feel like trying these mobile phones out. to do so, you can visit the Samsung store via this link.
What are you thinking on the Samsung Galaxy Note 20?
And then, as expected – because Samsung decided to jump the numbers in their phone series from '10' to '20', the flagship that is supposed to follow the Samsung Galaxy Note 10 in the Samsung Note series is Samsung Galaxy Note 20 and I can tell you that there have been a lotta rumours everywhere about the much anticipated flagship from Samsung. The Samsung Galaxy Note 20 5G is an expected line of very sophisticated Android-based phablets developed, designed and roduced by Samsung Electronics. Samsung Electronis is also expected to be the sole marketer of this amazing workpiece.
But then, we have some few reasonings of our own on this expected mobile phone and we just want to share it with you and of the many rumours running around, we want to expose you mainly to the display feature. Let's go!
Our thoughts on the Samsung Galaxy Note 20 5G Display.
The super-hero flagship – as I love to call it – as usual, in the Samsung Note series is expected to have to variants but considering the earlier release of the Samsung Galaxy S20, we cannot say for sure if there will be a Galaxy Note 20 Ultra.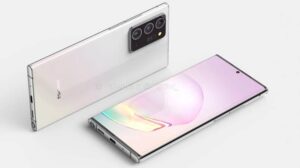 As of now, on display matters, the first variant of the Galaxy Note 20 is expected to feature a 6.42in, 2345 x 1084 pixels (440 ppi) and a screen ratio of 19.5:9. One thing that readily comes to mind when you hear a smartphone featuring this kind of display is this; "Samsung is really crazy". But, you have not seen enough as the "Plus" variant of the phone is expected to come with a 6.87in screen, 3096 x 1444 pixels (497 ppi), 19.3:9. And with this, I hope you are already mouth open in awe. Thta's some 4k display just in one smartphone.
Another interesting thing about this display is thatfor the first variant which is the Samsung Galaxy Note 20, the screen is to have a refresh rate of 120Hz and this is expected to even be improved on for the Samsung Galaxy Note 20 Plus.
Rumour has had it that Samsung is planning an under display camera which would rule out the need for a punch hole camera. And actually, this is going to be so amazing but it is still a rumour and it may eventually happen that only one of the variants will carry this feature.
Again, there have been rumours about the Galaxy Note 20 would feature a flat display for all the variants and my thoughts on that is this; Is Samsung gradually trying to deviate from their line of phones with the edges? That's what it seems but then, we wait.
Lastly, the S Pen is expected to improve and and come with a very great experience for the display feature of this great and amazing phone.
So, the Samsung Galaxy Note 20 models will come and we'll be waiting. If you're a big fan of Samsung smartphones and you are planning to upgrade, I'd say you prepare your money because Samsung is raedy to take you on a journey of awesome experiences.
Stay glued to our Telegram Channel as we bring more updates on the latest Phone and Tech News.