So, I was just surfing through the net and I found something very interesting, the Samsung Galaxy A51 is bestselling. Yeah! You must be in awe as me at the moment. Coming to such a news is very impressive considering the different line of phones in the Samsung Galaxy A series.
The Galaxy A series is a line of Samsung phones that became very popular in 2015 with the Galaxy A5 and has since then been doing great in the Samsung market. Following that, the Samsung A series now came up as an upgrade to the J series and it is a very reasonable upgarade. Few of the smartphones in the series include the Samsung Galaxy A10, A20, A30, A50, A70, A71 and then Samsung finslly came up with the Samsung Galaxy A51 in December of 2019.
Surprisingly, this flagship came in with a lot of hype and publicity and I had a sense of great future for the smartphone. To be sincere, this has not been a disappointment because the great features that came with the phone made it worth the hype and publicity.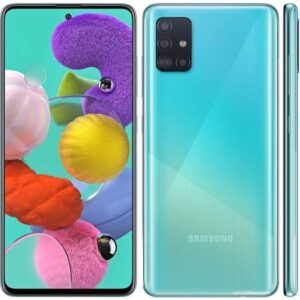 The extent to which the phone made a huge impact, some reputable companies had to make good reviews about the phone and we'll check some of the reviews below;
REVIEWS
Techradar
"If you are after a smartphone with a big screen, big battery and plenty of photography features, but you don't want to break the bank, the Samsung Galaxy A51 could well be the phone for you."
Trusted Reviews
"The Samsung Galaxy A51 is a winner thanks to plenty of high-end features and low-end price."
So, you have seen it all there, high-end features and low-end price. It is amzaing how Samsung can come up with this super kind of creation. Super!
FEATURES OF SAMSUNG GALAXY A51
We'll look at about three unique features that makes this flagship so outstading and could have emerged bestselling.
1. Big Screen, Small Price.
Featuring an awesome Infinity-O display on a 6.5″ Full HD + widescreen display all powered by Super AMOLED technology that allows you to game, watch, surf and multi-task without interruption.
2. Awesome Quad Camera.
The Samsung Galaxy A51 is designed to house a 48MP main camera that allows for awesome crisp and clear pictures both in daylight and at night. Accompanying on the rear is another 12MP camera and 2-5MP cameras. On the front, it carries a wholesome 32MP camera that can shoot ULTRA HD 4K videos, 3840 x 2160 at 30fps.
3. Premium Storage.
The Samsung Galaxy A51 features an advanced octa-core processor with up to 6GB of RAM which helps the phone to deliver smooth and efficient performance. Coupled with this is an internal storage of 128GB and has the capacity to be expanded up to 512GB with a microSD card.
You have actually gone through this post and I know that by now, you must have seen enough reasons for thia powerful gadget to easily ride the train to the bestselling phone of the Samsung company unarguably.
You can follow us on our Telegram Channel, AlitechBlogChannel for more updates on phone reviews.