Palmpay Spin And Win DEALS
The Palmpay app seasonal gift is now here which is what they call the Palmpay spin and win promo that can help you earn some amazing cash prizes like coupons and gifts.
We recently talked about the Opera shake and win promo. Most people seem to win some cash prizes like airtime phones and cash vouchers in different ways.
That seems to have come to an end or has been passed by the Opera Mini company or through the Opera browser, now we come with the Palmpay spin and win a contest or promo that can help you in some kind of cash prize that you are looking for.
The Palmpay App it's something that we've talked about earlier on our website which allows you to send some different gift money, cash price, and so on and so forth.
They now launch another reward that is called spin and win which is used to circulate the spirit of the festival like Christmas and New Year. Whether that is about to come or not we are about to welcome.
About Palmpay Spin To Win
In some cases, this is called Palmpay spin and win or spin to win which anyway you call it you are on the right full part.
It's just a program that has just been launched to reward their use for all customers that are still glued or wish to join.
The Palmpay App seems to pick an idea from what major platform has been going through which we already have the MTN spin and win promo that follows up with the Opera shake and win the contest.
Now it's Palmpay App Spin & Win which is something that is very simple. You can go out and you need to go ahead to the app if you are a member already select a button spin and you can win some cash prizes like coupons and some amazing gifts.
All you need to be the part of the person that will end the reward all the spin and win promo that has just been invented by this platform to their user Palmpay users is to stay until the end of the article.
It's a win-win season for everyone but you will need to carry out some tasks before you can earn your own cash prize or secure yours respectively.
How To Join Palmpay Spin And Win Promo
If you like to join the Palmpay spin and win promo first thing you need is the Palmpay app which can be gotten from the Google Play store. 
Or you can download the straight from our previous article that talks about I can get free airtime on Palmpay app. 
After that, the promo or contest is available for both old and new users so if you are joining the platform now you should learn how you can join it below. 
After using join the platform through the app Palmpay app you can help keep transactions on your app so to my own cash price I'll be able to get his pin option. 
The spin to win is determined by the number of transactions you have completed through the app Palmpay app. 
So we are going to be talking about how you can participate in the palmpay spin and win promo or contest and how you can join if you are a new member. 
But will you be talking more about the registration process we already have numerous articles that talk about how you can join Palmpay app on our site. 
So we will be focusing more on the Palmpay spin and win program which will lead you through how you can actually party and win your own cash prize.
Download Palmpay Apk
The palmpay app can be found on the Google Play store, which is recommended to get the latest version from there.
And get the updated version if you already have the apk installed on your device so as to enjoy the main membership that we also partake in the spin and win promo. 
| | |
| --- | --- |
| App name | Palmpay |
| Version | 4.3.0 |
| Download Size | 85MB |
| Type | Finance App |
| Company | Palmpay Limited |
How To Register On Palmpay
After you download Palmpay app you will need to sign up on the app is what we call the registration process. 
Next, you will be making use of your phone number to sign up for the app. 
This is the process if you might be asked for some other information like your name, email address, and referral code which is 7nW6X. 
You have now so that you will understand or if you don't still understand you should check our previous article for the signup process. 
Now we'll be thinking of moving to the actual part of this article which is the Palmpay spin to win promo. 
How To Participate In The Palmpay Spin And Win Promo
Once you sign up completely on the Palmpay app then you cannot go ahead to open it. 
You should have been a member that has completed some transactions on the app as we stated above. 
That should figure you to be part of the people that we are enjoying the spin and win a spin to win over that can earn you some gift. 
The number of transactions you do on the Palmpay app will determine the amount of Spain or amount of ways that you can use spinning so as to earn yourself some gift. 
After you get to the Palmpay app all you need to do is to click on the Christmas icon that you can see below or the center-right section of the app. 

Once you locate the banner that is hanging beside the Palmpay app main menu click on it. 
It was still that the company is giving out 100 million on the ongoing spin and win promo so you can also stand a chance to win. 

Once you click on a Christmas icon you should be granted access to the Palmpay spin to win menu. 

After you should earn yourself some cash price or coupons. 

All the cash price, like money, can be withdrawn to your Palmpay account once you get up to N 100.
How Can I Get More Spin On The Palmpay Spin & Win
you keep saying you can stand a chance to earn more Spin by carrying out a certain transaction on the Palmpay app.
You should get to do transactions like buying some airtime, purchasing any amount of data, and also using the platform for depositing or withdrawing money which is what they have been doing for some years.
You can also stand a chance to win must be in by
Inviting your friends to pal pay through your link all referral code 7nW6X.
Invite them to also activate their Flexi account can also earn you more Spin. 
You also earn more by sending money out. 
By topping up airtime and more.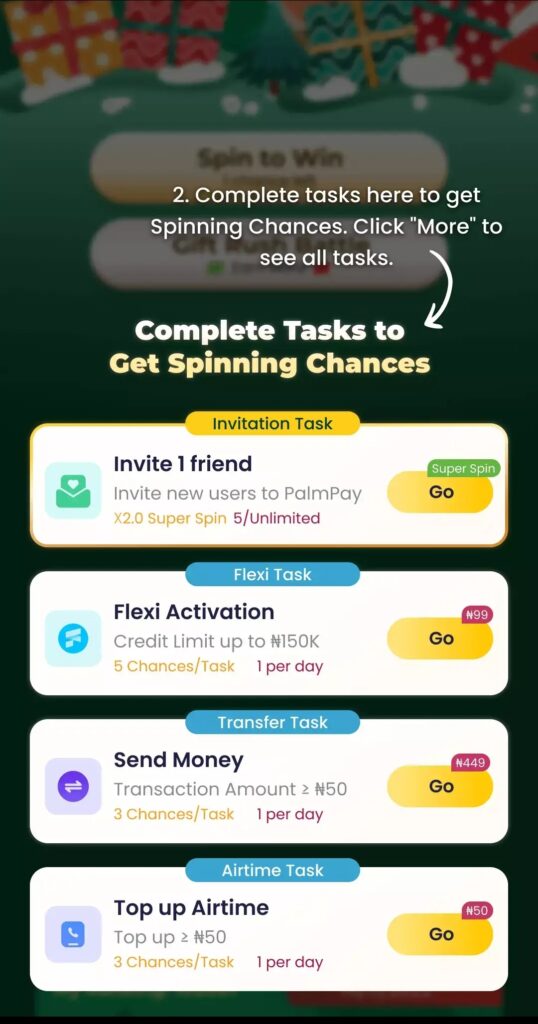 All this can help you miss things so as to stand a chance to partake and win your cash price on the palmpay spin and win promo.
They are all the things that you can do which you can see below or you will get to know about them once you actually get yourself access to this contest.
By doing all this you should be able to earn yourself more Spain that can help you partake in the Palmpay spin and win promo more and more.
Final Say
You do not know how you can partake in the Palmpay spin to win promo. It is now left for you to use all the information we provide in this article as it is supposed to be made use of.
It's a holiday And the season of freebies has been all that will be granted from most platforms. You can make use of the season to end something. 
The Review
Palmpay Spin And Win
Review Breakdown
Pay Speed

Data Service

Airtime Service
Palmpay Spin And Win DEALS
We collect information from many stores for best price available