Yes, there is now a new opportunity for you with so many different kinds of card prices from Opera which is now called the Opera predictor Game that you can go ahead to predict which tells you to win cash prizes like airtime cash voucher and smartphone more or less like opera shake and win.
 It's a new campaign that Opera is currently running which is to predict you as a user will predict a particular football match or game and the outcome of the matches will determine if you win a cash prize or not. 
From the list of the cash prizes that is stipulated for this campaign you as a member that we stop at the paid on the free spin option tend to win up to 10,000 dollars among the cars prices.
Some of the cash prizes that you can win are a free airtime cash voucher I can use to purchase something online and also smartphones and turns out they have been doing this since the Opera Shake and Win era.
As we all know is not the first time Opera has been running different kinds of content and campaigns that can make people win different kinds of cash prizes so it's better to take this seriously and partake in this particular campaign as it comes as fresh which you can learn how you can get his done below or once you finish reading this article.
This article recovered lost the review of the Opera predictor all prediction which is one of the promo that is currently in town.
Opera Predict And Win Promo
There's nothing to explain in this section. It is just something that is straightforward you predict and once something is predicting wind relating to football matches then you are rewarded as a user's either free airtime cash voucher or smartphone.
You can also win different kinds of gifts by just spinning which is more or less like spin and win promo or shake and win, whenever you predict and submit your prediction you stand a chance to earn free spin which you can also earn some particular cash prizes whenever you carry out this pain same form this platform opera.
The Opera predictor promo is something relating to the kind of campaign or promo that you have carried out before the shake and win promo that has been previously done by Opera.
You will need to carry out from that or be that specific member that uses your phone number to log in before you can think of making any prediction and making use of your shake and win that is stipulated to every particular opera account.
How To Being The Opera Predictor Campaign
Before you can start you will need to gain access directly to the platform using the Opera mini browser app.
You can go ahead to the Play Store directly to download one Opera mini browser or click here.
Once you launch the browser you will be directed to the main page on the main page are different kinds of tabs.
From the tabs, you will need to select the predictor option or the one with the predictor football icon on it.

Once you click on it you will be redirected to the predictor page so as to start predicting and earn your own card prices.
You will need to predict up to five football matches whether it is correct or not.
Once you submit the prediction you will be granted access to shake and win.
You will need to make use of your Opera Shake and Win account.
What is the prediction as submitted then you will be provided with a free spin so as to spin and win different kinds of prices.
Which does not determine the kind of prizes you will win or you will be rewarded with.
Which started with free airtime free cash prizes and Order cash prizes like cash vouchers smartphones and so on.
You can stand a chance to win all the prizes if your predictions are actually correct on the predictor page.
Just make sure you lay down your prediction on the Oprah predictor section on a daily basis when you're free to spin and stand a chance to win free cash prizes.
Prizes Won So Far (Proof) & Country Eligible To Partake.
Below is some proof of cash prizes gift god that has been provided by Opera to their members who are working with the Opera predictor so as to keep predicting and winning.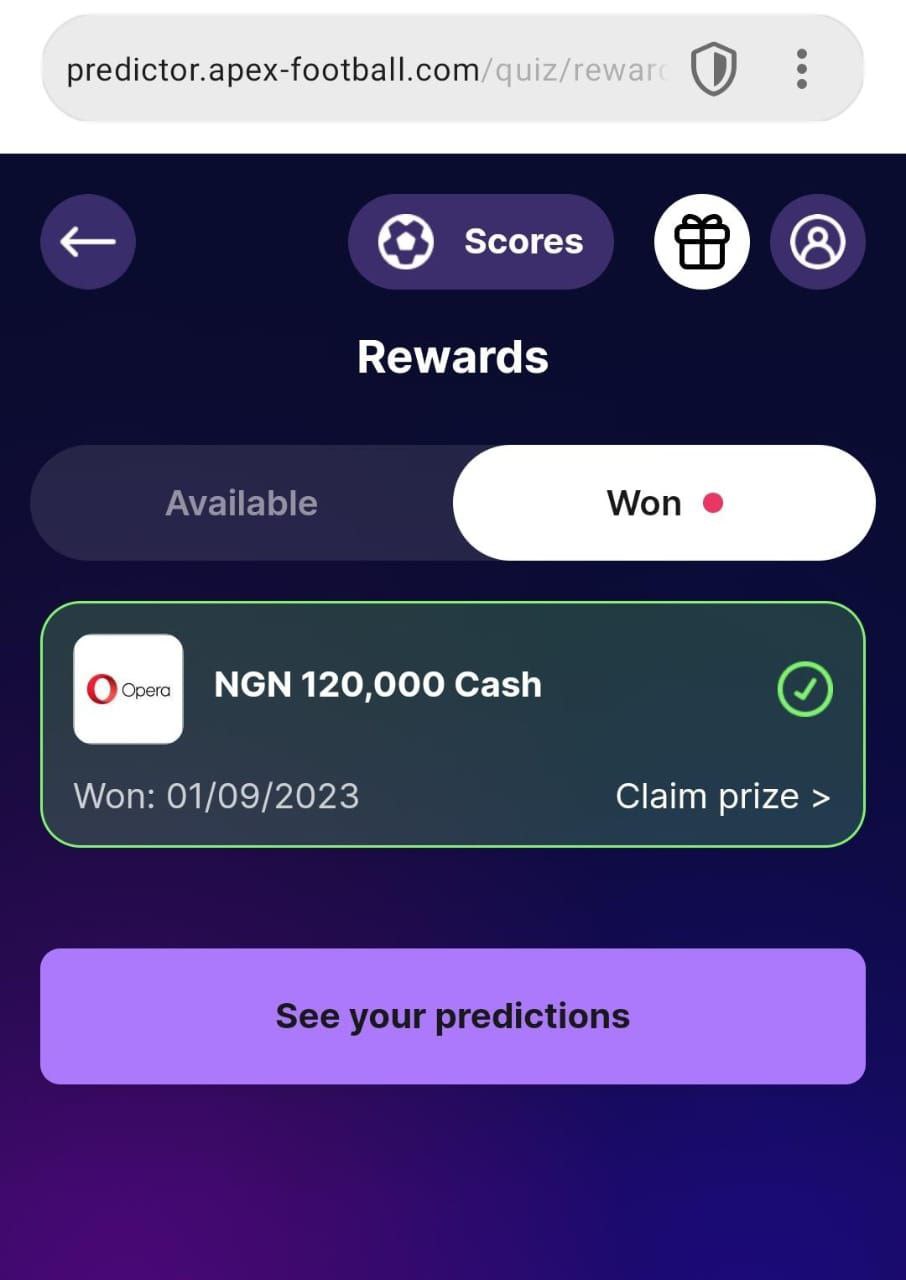 Countries that are eligible for this campaign are:
Kenya
Nigeria
South Africa
You can check from the list and go ahead to start getting your own free cash prizes once you paid it and Spain on on Opera mini browser app.
Opera Predictor Log-in / Sign-Up Process
The Opera predictor login and signup process is more or less like the process that you use in the Opera Shake and Win login and signup process.
Which you just need to log in with your previous Opera Shake and Win account.
By making use of your phone number and getting a verification code so as to Grant access.
This is the only way that you can use to log in on the Opera predictor or sign up.
Bottom Line
If you have any other thing you would like to add to this article about Opera predictor then you can state it below in the comment section Also you can provide a screenshot of the kind of cash prizes you have earned so far on this campaign.