It's as been long let's say early 2020 which opera offer same free browsing offer to all Nigeria in partner with Mtn And Airtel ISP which that also occur in Ghana, as of recently it's was just confirmed that opera now partner with Vodafone in order to offer free browsing to ghanaians which are using Vodafone as their ISP network. 
When this offer was introduced in Nigeria early 2020 which we made some comprehensive article on how you can make use of the free browsing and which network the offer attached to in Nigeria, they firstly partner with Mtn with they later partner with Airtel Network provider they offer all opera user that uses any of there mobile app on there device free browsing offer worth 50MB data daily usage which most people seems to enjoy it because the free browsing will make their users gain access to the opera news app,  opera mini app and lastly the opera news lte app for free with a daily usage of 50MB Seems same apply to Vodafone ISP network in Ghana too that was just being discovered. 
Later on as time goes opera seems to have huge users from Nigeria which makes them to still go ahead further to introduce some data plan deal in partner with mtn which when you dial some code you will see option to subscribe to some list of opera data plan that was only available on mtn network provider tariff plan which we later find a way to tweak the plan so that we can let it power up all our app on android devices with the help of some VPN mostly. 
We've just got the info that the same thing is applicable to Vodafone for our Ghana subscribers which seems you can now browse free on your phone with the free browsing offer by Opera in respect to follow some of these guidelines listed below. 
How To Browse Free With The Free Browsing Offer By Opera On Vodafone
There is nothing special about this once you have your vodafone data turn on. 

What you have to do next is to switch to any of the opera app either Opera news app, Opera mini app or Opera news lte. 

Once you open any of the above listed apps you will be notified that you have 50MB to browse for free. 

When you finish the 50MB for that you won't be able to browse free on any of the opera apps again. 
The free browsing offer also seems to work with other opera app like Olist and Opay which people make use of in Nigeria. 
Here is a great thing and option which opera seems to carry out for Gahanians which cast stay away from the updates they get from the opera mobile apps both on Android and iOS devices. 
We Nigerians are already enjoying this for quite a long time. Also happy our Ghana subscribers can also benefit from the offer tok view Vodafone network.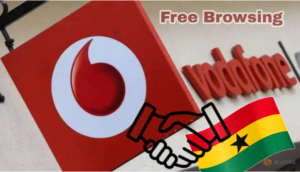 If you feel like you would like to know how you can make the data to work with all apps then you should just join our telegram channel and stay tuned for we will soon release tweaks that will suit the free browsing offer soon.