In December people have been looking for ways to make money, especially online, which brings us another way to earn money online even though you are not a blogger known to be an opera news hub. 
Opera News hud is a platform owned by an opera company that is newly launched for people with creativity to lunch there's creative with them and get paid for it, actually you get paid on opera news hub in several ways which will be expressed on these posts.
Although what makes us bring this content into consideration is a major reason to let you know how you can earn via the opera news hub everything will be revealed in these articles.
What is Opera News Hub
Opera News Hub is a platform owned and controlled by our noble opera company, it's a platform created for people like me and you to publish any form of an article in your motivate which will be reviewed by opera before being published.
Opera News Hub is a content creator, a platform that allows you to make extra ca$h in this festive period!, Which if you Publish 5 – 10 articles between 19th December 2019 & 5th January 2020, you will win a cash prize.
You stand a chance to win when you Enter to win the first prize of N100,000 cash! when you Publish an article that is among the Top 10 Predictions for 2020 let start earning now no dulling..
How to Create an opera news hub account and earn from opera news hub
There are some things to put into consideration before you can apply to be a creator on this platform, Consideration which also implies Requirements.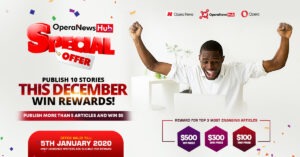 Requirements for the Creation of an opera news hub account
A Facebook account (Everyone almost in Nigeria has a Facebook account so try to use a valid Facebook account)
Opay Ride account (Opay Ride account if you don't have one try to create one by clicking here)

Internet Connection

Good well defined web browser

Lastly A Smartphone or PC (PC or laptop is Recommended!)
After getting the requirements the next step is to create your account by following the below steps.
How to Create an opera news hub account
Click on these link here which you lead you to the opera news hub sign-up page as shown below:


Make sure your Facebook is log-in to the browser you are making use to visit the page.



Now click on the tap connect to Facebook

you will be asked to be a creator by clicking the button
Click it and it will lead you to the place to fill in your details.
Fill in your details as mentioned in the empty space provided for filling.
Your media Name

Category

Photo and

Description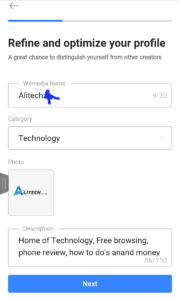 The next step is to provide them with your other details by telling them more about yourself as shown below:
Details range from legal name, legal last name, country email, and phone number.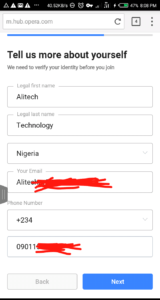 Attached is your opay account number to the place provided for it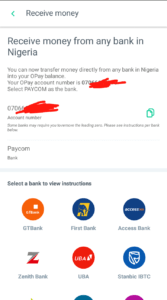 ( in case you don't know the phone number you use to register on opay is the account number you just have to remove Zero [0] from the number when you what to submit your account number as shown below) .


Lastly and what you should not miss is Referral code placement (Here is your Referral Code: QZMDKZA )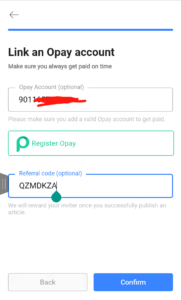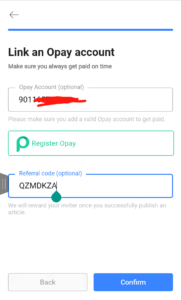 After following the necessary step stated below you have successfully created your account.
All you have to do now is to wait for 24hrs before your account can be reviewed and get approval. The next thing now it to know how you can earn from opera news.
How to earn from the opera news hub
Earning on opera news Is every easy why is said that was:

You can earn from opera news by publishing content on opera news, Earnings your reward will be redeemed

to you per click

, what I mean is when someone clicks

on your post on opera news you will be rewarded for that.
Post published in opera news must get approval first before it will be published in the main opera news, so what am saying is you have to know the kind of post you will publish to opera news.
Earnings also come from opera

by you referring your friend to opera news through you sharing your refer code with them has located in your account settings dashboard.
Think that the main ways in which you can earn from this platform, so are waiting for starts now to be the creator and earn via opera news.
How to refer your friend to the opera news hub
Referring someone to opera news is not necessary for does who don't like guiding programs. But for the ones that love referring your friend, you can follow the steps below. 
Steps  to refer your friends to the opera news hub
Log in

to your opera news hub dashboard
Click on the account on your dashboard
Locate your refer code (Refer code looks like these: QZMDKZA )
Copy these links then attach your refer code with it.
Make some little write-up

with the link and share it With your friends that's all
 if you have any questions state them in the comment box and wait for an instant reply thanks for always revisiting more related posts.