The app called Opay, for those that don't know what Opay is or what they are all about or likewise which offer or what they do, It will take Me to the way on making you understand what they are all about Before we proceed on activating there or the 50% Airtime offer from Opay App.
What Is OPay

OPay is a payment platform developed by Opera Software. The platform enables our users to shop and pay for services and products through their mobile app or web browser. OPay is currently available as an Android application and allows fast, easy, and secure payments and money transfers. So if you what to know more about Opay.
Let now proceed on the 50% Airtime Activation on opay app, has of recent Opay has been offering a lot of discounts on some of their services from Oride, Food, betting, Okash, Airtime, and more of their from opay services
Yes, likely we will only be focusing on getting the 50% Airtime discount, which involved you purchasing Airtime from opay services and you getting your discount.
In these posts or little articles, I will be showing you how you can or be able to purchase Airtime on Opay with a little Amount discount involved so follow up let being.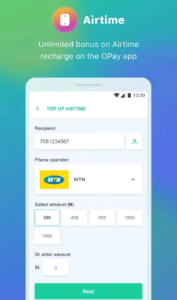 How can I purchase Airtime and Get discount on Opay App
What you should know before you proceed
Noticed:The 50% discount only Last for this Wednesday..

likewise it works only on updated Opay App we will keep updating you

whenever these offer is up again on these same post.
As Said Earlier,
this offer is limited has discovered that the offer comes around occasionally via the Opay app only.
Opay is offering 50% off on airtime purchase from their app
that is you can buy 500 Naira airtime for N250 Awsome or not?.
How to Get 50% discount from opay app
Have you know a trick is needed since which bring about these post and it's not all the available amount there have discounts offered.
You just have to buy #50 airtime for N25 five times or more which gives you more airtime while you pay half the amount you purchase That All.
How To Get Opay App
If you don't have the app or you were unable to download it the best
the option is to Switch to your phone play store market search for opay and download it or you download it from here And use these (156619121995699160) has your referral code when registering so that we can both benefit that is we can both earn from opay.
Remember always drop a comment to keep us more encouraging on our work thanks enjoy Sharing with friends and families…