Screen of OnePlus 7T Series
Fluid Display of  OnePlus 7T Series
With a responsive 90 Hz refresh rate and the latest HDR10+ technology, the OnePlus 7T Series Fluid Display is smooth, vivid, and incredibly immersive. If it sounds too good to be true, just wait until you see it (OnePlus 7T Series).
Colour Available For OnePlus 7T Series
The colour available for now are  OnePlus 7T Series Glacier Blue 8 GB RAM + 128 GB Storage and  Frosted Silver with same specifications. 
Structure and Appearance Of OnePlus 7T Series
Complete Review Of OnePlus 7T Series
Display Specifications OnePlus 7T Series
90 Hz refresh rate ilky smooth.
The OnePlus 7T's smooth 90 Hz refresh rate is enhanced by over 370 optimizations in OxygenOS for seamless visuals and ultra-responsive touch design. Once you experience the smoothness of Fluid Display, you'll never settle for anything less.
HDR10+
Dynamic brilliance.
Binge all your favorites in jaw-dropping clarity with HDR playback on Netflix, YouTube, and Amazon Prime Video. HDR10+ produces deeper blacks, brighter whites, and more true-to-life visuals for stunning movies, games, and photos.
Experience more immersive entertainment, anytime, anywhere.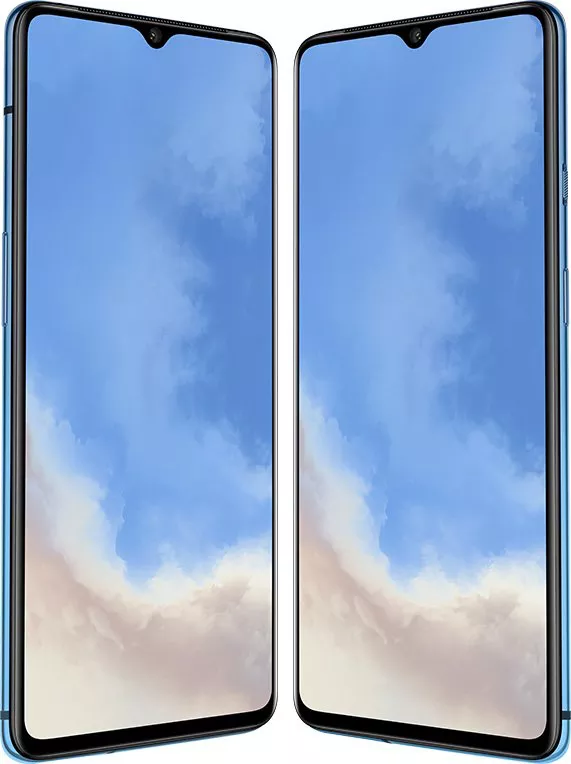 UltraShotEngine 
OIS + EISImage Stabilization 
7PLens
f/1.6Large Aperture
20:9aspect ratio
1,000 nitbrightness
90 Hzrefresh rate
6.55inch
Camera specifications OnePlus 7T Series
Ultra wide angle
A whole new perspective.
When shooting photos or videos, switch over to the ultra wide angle camera at the press of a button to instantly widen your frame to a dramatic 117° field of view. Even up close, effortlessly capture large group shots and sprawling landscapes
Nightscape
Good evening.
Available on both the main camera and the ultra wide angle camera,
Nightscape mode combines information from multiple frames in varying exposures to produce a wider dynamic range. The result? Bright, clear, dramatic photos—even in surprisingly dark environments.
Choose your focus
Everything in reach.
Swap lenses in an instant, switching between a 48 MP main camera, 16 MP ultra-wide camera, and 8 MP 2X telephoto camera for unmatched versatility.
Portrait mode
Brilliant bokeh.
Dramatic portraits and professional headshots are clearer and more expressive on the OnePlus 7T. Thanks to the new telephoto camera, you can choose between two distinct focal lengths in Portrait mode—each producing its own unique aesthetic.
Performance specifications  Of OnePlus 7T Series
OnePlus 7T Series
UltraShot Engine
Ordinary made extraordinary.
Optimized with our intelligent photography engine, the OnePlus 7T takes breathtaking photos, even in difficult lighting.
From backlit portraits to sunsets at dusk, capture it all in remarkable clarity.
Macro photography
Watch closely.
Get up close and personal with the all-new Macro Mode.
Snap a shot from as little as 2.5 centimeters away, capturing intricate details that even the human eye struggles to seeFront camera
You look good.
The OnePlus 7T's 16 MP front-facing camera has Portrait mode built right in for more impressive selfies, while EIS stabilization keeps videos smooth and steady when streaming or video chatting.
Performance specifications 
Qualcomm®
Snapdragon™ 855 Plus
The new flagship benchmark.
Faster, smoother, and more efficient. The top-tier Qualcomm® Snapdragon™ 855 Plus powers through intensive 3D games, videos, and everyday multitasking with upgraded processor speeds and graphical rendering.
Haptic vibration
A better bzzt bzzt.
The OnePlus 7T's large vibration motor and advanced haptic driver produce natural, satisfying feedback. Experience strong, quiet vibration when typing, playing games, and receiving notifications.
UFS 3.0 and RAM Boost
Faster and more efficient.
With blazing data speeds and 128 GB of UFS 3.0 storage, the OnePlus 7T allows for faster file transfers and offers ample room for all your files, photos, and games.
RAM Boost intelligently optimizes memory usage over time for smoother app performance.
Dolby Atmos®
Encompassing sound.
The OnePlus 7T's powerful dual stereo speakers feature Dolby Atmos® 3D enhancement for more immersive movies and games, with or without headphones.
Dolby Atmos® audio optimizations produces crisper, louder, more balanced sound across all your favorite content.
Fnatic mode
It's a game changer.
In the heat of battle, an incoming call or text can be devastating.
Developed alongside the world-renowned eSports pro team, Fnatic mode blocks calls and notifications, streamlines network data, and dedicates system performance to what really matters: winning
Intelligent charging
Warp Charge 30T isn't just faster.
It's smarter, too. Power management and thermal dissipation takes place in the adapter rather than the phone itself, so very little heat ever reaches your OnePlus 7T.
OnePlus 7T Glacier Blue 8 GB RAM + 128 GB Storage and  OnePlus 7T Frosted Silver 8 GB RAM + 128 GB Storage
Price sales in market 
Currently sold @ $599 in onplus main online shopping site has shown in the screenshot below 
Make your fast Purchase here fast. 
Other online shopping sales price.. 
still available at same price rate mostly on all international online shopping site (worldwide online shopping) one of the example is at Banggood has shown in the screenshot below
Make your shopping fast here on Banggood
Battery Mode and other specifications  for OnePlus 7T Series
The internal battery has a typical value of 3800 mAh and a rated value of 3725 mAh.
OnePlus 7T is using the new generation of Samsung Display AMOLED, which has been awarded the TUV Eye Comfort Certification based on its ability to drastically reduce the harmful effects of blue light.
Warp Charge 30T The fastest Warp Charge ever.
It's the legendary OnePlus charging you know and love, now even better.
Forgot to plug in overnight? No problem. Warp Charge 30T provides a ~70% charge in just 30 minutes, so you'll be ready to go in no time.
Fnatic mode
Turn your OnePlus 7T into a dedicated gaming powerhouse for smooth, uninterrupted gaming bliss.
Qualcomm®
Snapdragon™ 855 Plus Unleash the next generation of mobile performance, boasting 15% faster graphics rendering.
Oneplus 7TSeries on Twitter
Got an eye for a shot? 👁️📷 Capture the beauty of the #OnePlus7TSeries for the chance to win some prizes to pair with your new device. 
Oneplus Also have A refer program has stated below on Twitter. 
Get your #OnePlus7TSeries with $10 discount voucher on accessories when you buy phone and accessories together using https://t.co/zNMQtvPNmT
In addition, get free shipping voucher for your next Accessories order.
Price Sales online shopping market in Nigeria .
Jumia online popular shopping in Nigeria Oneplus 7T Price Stated has follow and has shown in the screenshot.
Oneplus 7T 8GB 128GB Snapdragon 855 Plus 6.55" AMOLED Screen 90Hz Display 48MP Triple Cam NFC Smartphone
Brand:Oneplus|Similar products from Oneplus₦ 228,000
Konga online shopping also one of the popular online shopping in Nigeria there price tag is also stated has followed.
unfortunately it not yet available in konga online shopping platform you always stay updated to site to get update is it available on market or not @konga.com.
Related Queries
oneplus 7 pro
oneplus
oneplus 7
one plus
oneplus phone
oneplus 7t pro
oneplus 7 pro specs
oneplus 7 release date
oneplus 7 price
Conclusion
We make our own part by bringing the phone to you will complete and appropriate reviews that we think it might encouraged you to purchase the phone so now it left for you to make your choice always revisit out site for related post on most hot phone reviews in specific smartphone reviews.
Thanks if you have any questions regarding the pos, make use of the comments vox to laydown the complain thanks.