The world of technology is going wider and wider everyday which we don't know where it's might lead us to tomorrow, Mtn is back a again with an embedded sim which is something like invisible sim because you don't need to purchase a sim or cut any sim or even insert any sim to your phone again the mtn esim features is said to be placed on phone in different ways.
Why we call this mtn esim features invisible was that you don't need to insert any sim to your phone before you will start making use of the sim which is a great features and something that we most people want because it will save us more from sim misplaced sim swap and others like sim exchange nothing like sim welcome again because the sim will be placed already on a device just like some now follow come as we always said. 
As of recent Mtn Company just announced that they will make the sim mtn esim features and to be launched in Nigeria first which we appreciate that. 
According To Mtn About The Mtn eSim
We're proud Turning Up embedded SIM (eSIM) technology first in Nigeria🇳🇬 and this part of world!

Thank You MTNers taking this innovation to market,we also appreciate @NgComCommission support to enable this technology. https://t.co/BoUKuqNK1d #GoodTogether #TurnItUp @MTNNG pic.twitter.com/wq4hlRJLqp

— Mazen Mroue (@Mazen_Mroue) July 16, 2020
Some benefit of this sim is somehow mind blowing which we don't even expect to be which is some best feature of the sim let's break it down for you. 
Features Of The Mtn eSim
The new launched mtn esim will always save us from sim damage either doing the process of cutting from micro to Nano others because it will be embedded on the device. 

One the mind blowing is that you will have access to get different numbers from the same esim, I mean on mtn esim multiple numbers, wow you will save money from that. 

It is an invisible sim as we said that you don't need to insert any sim to your device before you will start making is  of your sim. 

And it makes things easy for business runners and travelers which you won't need to switch and remove your sim from one device to another again. 

There are other more features of the sim which we can't mention all for now but until will experience such. 
Although for now the esim features is not available on all device for now which some higher device are selected to have the esim features for now which includes:
Apple products ( iphone 11, XS and Xr series).

Google products (Pixel 3 and 4 xl).

And Samsung products ( Samsung X20 series).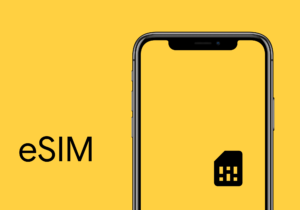 There are some processes to carry out before you can activate or get your own mtn esim working. 
How To Activate Mtn eSim
It was said that you will need to visit any mtn customer service agent shop and they will let you know what it takes before you can get the sim activated. 
And was also said that there is a trial which is attached to the sim for now that we only last for a year which depends on who came first or who get the esim first. 
So would you like to get your now? 
Although the sim is said to be invisible but it's came with some part when you purchase a related device that is embedded with the esim containing some Qr code for activation of the sim and others like how you can gain access to your sim profile and set it up including full process on your sim will be activated.  Wow I wish I had one. esim. 
Let hear your thoughts about this new features Mtn just brought to us we Nigerians #Mtnesim.