Actually this Mtn unlimited browsing is quite available for some time but we've just known about it and we like to share the unlimited free browsing cheat with our Ghana viewers and subscribers which is strictly unlimited. 
The Mtn Ghana Unlimited Browsing is what ghana people enjoy as of now which I love something like that to happen is Nigeria lol, I don't think that will happen again cause we've have some people that don't want progress for any free browsing which whenever we discover and free browsing cheat they go ahead and report it to the ISP ( Internet Service Providers)  they that it can get blocked which is something bad I pray they should change from that behavior. 
Nevertheless, we've gotten and discovered the Mtn unlimited browsing for Ghanaians which are part of Africa and we would like to look out for some of the features. 
Features Of The Latest Mtn Unlimited Browsing 
The browsing is unlimited no restrictions for browsing.

Free browsing access to all Mtn ghana sim which zero balance (Mtn 0.0k)

VPN used to power unlimited browsing is fast and no speed throttle.


A configuration file that will be served to our ghana subscribers is being tested and working fine. 
Now we know the features let us know what we need for the unlimited browsing cheat for our Ghana subscribers. 
Requirements For The Mtn Ghana Unlimited Free Browsing Cheat
Mtn Sim with no airtime or active data plan (Mtn 0.0k)

VPN used to gotten access to the unlimited browsing (Http injector Download from play store)


After that the stick with the below step. 
We've gotten the requirements, it's time to set-up and runs the Configuration settings. 
How To Set-up The Mtn Ghana Unlimited Browsing Cheat
After you have gotten the VPN HTTP injector and the config file.

Turn on your Mtn data connection and open the HTTP injector.

Now open it and click on the space to import the file.

Locate the Configuration file you download from the site.


Then click on connect, it will connect in the next 10s.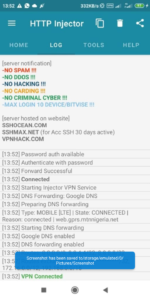 You can now start browsing unlimitedly with your Mtn network connection without any caps. 
Things To Note About The Mtn Ghana Unlimited Browsing
This is a trick and cheat which is being used to browsing unlimitedly with your Mtn sim.

Since it is unlimited free browsing cheat, it's the night before being disconnected by the ISP ( internet service providers)  once they discover it.

You can check back for the latest Configuration file if the old one expired.


The Http injector Config is valid for just 7days. 
Hope you as our Ghana subscribers were able to browse unlimitedly with your Mtn sim? 
Let us know your thoughts about this cheat view in the comments section and also join our telegram channel for fast updates on our latest post.