We've just discovered a news process which you can use to get mtn free data so that you are able to browse freely with your mtn network which we refer to as free browsing tips and tricks. You are able to get mtn free 600mb view app called ayoba which we are going to explain how you will get the mtn 1.5GB, 3.5GB and 4GB for free. 
As of last week we talk about process and procedures which you can use to get mtn free 10GB data and 100%
data bonus for 3 months which the 10GB can be use on 4G device and the 100% data bonus can be used on any
device android, iOS and PCs either they are 3G or 4G devices,  the free browsing tips we are about to share now
we favour both 3G and 4G device users which implies 4G bonus and more. 
We would like to take this step by step other ways we call it apa style which involve from top most to the button
like we switch to the mtn 600MB aspect view the app called ayoba app. 
How to get mtn free 600mb from ayoba app
It's quite simple and straightforward since it's free data and there's no trick involved in getting it, you just have
to. 
Download Ayoba App From Play Store or get direct link from here. 

Open and install it. 

Register with your phone number, username. 

That's all. 
After registration you will get a message as shown below. 
It entails the ayoba 600MB and how you can make use of the 600mb on a monthly basis 20mb daily just to get
updates through the app and chat with your friend, view the app, chat and get updates from covid-19 and other
stuff which are listed on the app. 
How can I make the ayoba mtn free 600mb to power all app
That's what we have not look into for now, but you can join our telegram channel to stay tune and how you will
be able to make use of the ayoba data will be revealed soon unlike opera data plan which was introduced some
months ago and we also find a way to by-pass it's activation and how to make use of it I mean the data ayoba
free 600mb. 
We proceed on how we will be able to get the mtn free 1.5GB from mtn. 
Latest Method how to get free 1.5GB from mtn
This offer is available for people who purchase new mtn sim. We will explain that.

If you buy a new mtn sim your plan will be mtn yafun yafun plan which the plan came with many more goodies.

You should make sure the mtn sim should be registered as 4G sim.

So whenever you load credit that is airtime on the sim either on a 4g or 3g device you line will be credited
with extra data which might be 1GB data or 3GB data it depends.


Load at least airtime worth of 500 or 1000 then you will stand a chance at the mtn free data.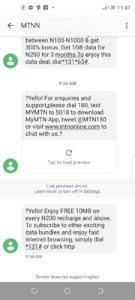 How to get mtn free 4GB in 2020
This is quite simple and I would like to go straightforward on how you can get the mtn free 4GB. 
To get this 4GB bonus from mtn just make sure your device is a 4g enabled device and your sim is a 4g sim.

Then when you send the message 4g to 131 you line will be created with a free 4GB data bonus.

All together when you also send lte to 131 another data bonus of 25% free mtn data whenever you
subscribe to any plan view the 4g device.

Actually all this process was carried out with a successful message as was shown below.

When you follow the steps and have the requirements your line will be loaded with bunch of datas and airtime
just as shown below: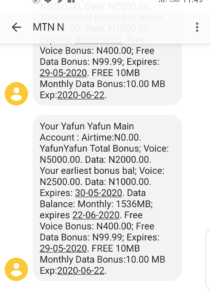 You will have mtn yafun yafun data bonus and airtime, you will be loaded with mtn free 25% data bonus when
you subscribe to any plan, you will be loaded with mtn free 100% data bonus when you subscribe to any data
plan again at the same time, your mtn line will still be loaded with mtn free 4G data bonus when you still follow
same procedures. 
Which all the tips and free browsing tips entails process on how to get the mtn free 1.5GB, 3.5GB and 4GB. 
Yea have provided you all with what you need to my own satisfaction so if you have any questions use the
comments box or you come to ask on telegram view our channel. 
I use the medium to wish our Muslim readers and followers happy Eid Al fitr one again Alitech regards.