Upon new privacy policy of WhatsApp that we talk about some months ago that it's gonna take effect in 2021 which the founder or the CEO of WhatsApp and its management make it's strictly for WhatsApp user's or they should stop using whatsapp if they cannot access the policy that is said to be sharing of WhatsApp data to Facebook that makes WhatsApp not to be a private chat platform again. After that effect, people suggest an alternative private social media called a signal. That's why we came about the top as to how to move WhatsApp group chats to signal group chats without losing any members that are present on the WhatsApp group chat. 
Signal seems to be the best alternative private social media in respect to WhatsApp which most people as dropout WhatsApp old privately group chat to join use this latest known social media that as seems to be in existence Since 2014 but people don't know about it. WhatsApp seems to be casted which people now left the social media to join our social media like one of the social media called telegram that has some great features in comparison to WhatsApp. But seen most people prefer signal private chat social for now just to make them escape the latest privacy option made strict by whatsapp we now suggest we should let you know what you don't know about the social media named signal. 
What Is a Signal Private Chat Messenger? 
As the name implies signal chat is a social media that is set Aside to be private and don't seem to play with people data or information by tapping through it from there mobile device just as whatsapp just add some privacy to that their privacy policy now that make it's users to share it's WhatsApp data to Facebook that might lead to the link of information and makes its users to engage in some selling and buying stuff simple advert just as it's was seems on Facebook signal does not allow that. It's strictly a private chat platform and doesn't play with people's data except for the phone number that was used to sign up to the platform. 
WhatsApp new policy issues make people gain more attention to this social media which most people will like to know more about social media before they join. One of the best features that were added to the signal chat that's made it to be the best alternative to WhatsApp is that. 
People that you already have on whatsapp will be display on your signal account too once you sign up to the social and slide to your contact info on signal enough of that now let's know how you can join signal and try to know how to move whatsapp group chats to signal or signal group without any stress. 
How To Join Signal Private Messenger 
To join signal or signal private messenger you will need to have:
A signal mobile app that can be downloaded on your mobile store or app store.

You will need a phone number or your already used WhatsApp number that you will use to register to the signal private messenger.


4 digit Pin that will be used to complete your signal account registration for one-time access. 
Once you get the approved requirements then you are good to go you can now join the signal private messenger and move your Whatsapp contact alongside how to move WhatsApp chats to signal by following some easy steps and procedures. 
How To Register On Signal 2021
Download signal private messenger app from your app store or play store.

Click here to download for android users which will direct you to the play store.

Try to let the app complete the download process and make sure it's installed completely.

Now open the app and provide your phone number alongside your country.

The county will be captured automatically if your phone location is turned on and make sure you are using your WhatsApp number to sign up to signal.

That should be noted because we are about to move on WhatsApp chats and group to signal.

Once your country and the phone number has been provided.

Then you can proceed to the registration by clicking on next.

Your number will undergo a verification process on the signal app just like WhatsApp.

That will make you or you will receive signal verification code on the number you provide.

Check for the message on your phone and note the signal verification code down. Or

If you are using a smartphone the app will automatically pick up the code and verify itself without any stress if the number is present on your smartphone.

If the number is not present go ahead and check your phone message center, find the code provided and click on next.

On the next page, you will be asked to provide your signal first name which latest name is optional.

Go ahead and provide the details then next the latest you will be asked to provide a four 4 digit pin.


Provide the pin twice and proceed and Boom you have successfully created your signal private messenger account that looks more or less like your main number. 
You can now slide to your chat section or number section let it's the app to gain access to your contact then it will fetch out all numbers that you already have on WhatsApp for you. You can switch to chat with them and. Plan now to move your WhatsApp group chat to signal before the WhatsApp new policy takes final effect in February as was stated. 
How To Move WhatsApp Group Chats To Signal
To move your Whatsapp group chats to signal you will have to follow below simple steps.

Open your signal private messenger app on the top right corner of the app.

Click on the three-dot menu button  and find the option.

Hit on the options button new group and create a group related to your WhatsApp group on signal.
Do that by adding one of your WhatsApp group members first to the newly created signal group.

After that create the ground chat name similar to the one on Whatsapp.
The signal newly created group should look like a clone Whatsapp group so give it some name even if you add emoji on the group name make sure it's the same.

Add a group profile picture after that look below and click on the create button.

Now you have successfully created a signal group Whatsapp else is to move your Whatsapp group members to it.

Now click on the top bar of the signal group chat page.
Locate the option for group chat link which will be on turn off mode.
Turn the button on then click on the share button.


Now copy the link and share it to your WhatsApp groups or you can simply use the optional share button and share it to your Whatsapp group.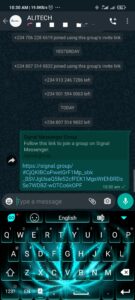 Starting to tell people on your WhatsApp group to move straight to signal group chat instead of staying on Whatsapp by using the Signal group invitation link. The link will lead them to join the group.
And for those that have not joined the social media before it will direct them to download to the app register then be able to join the group using the link as well. 
Whatsapp In Comparison With Signal Private Messenger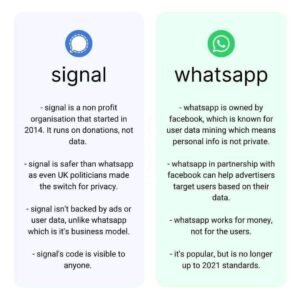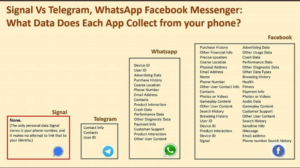 As you can see it is very easy to move your WhatsApp group chats to signal without any stress. You can as well tell your friends that they own a Whatsapp group chat too and Willing to move to signal because of the latest privacy policy by Whatsapp. Show then using the step on how to move Whatsapp group chats to signal you get on this article using the share button or copy and share the post link with them.
The Review
Whatsapp Vs Signal
This are little comparison within whatsapp messenger and signal private messenger that as came into existence since 2014 and got Noble in most countries in 2021
PROS
Screen security for signal
Group chat security for signal
Self destructing messages signal
CONS
No screen security for whatsapp
No group chat security for whatsapp
Self destructing messages whatsapp
Review Breakdown
Signal full end to end

Whatsapp fill end to end

Both popularity