If you can remember for does who have been with us for quite long or some year ago we enjoy one of the free 2000 registration bonuses from standard chartered which is also called SC bank through the SC mobile app it's later shifted to N3000 which every member that successfully registered to standard chartered bank to view the mobile app will be reward with 3000 first time registration bonus which we all enjoy it's most during that pandemic period here is another 2000 referral bonus progress from standard chartered SC bank again (Standard Chartered Referral Bonus)
The SC bank at has a referral program before but it does not attach with a bonus or reward once you finish registering or successfully invite someone to the bank but now you will now be given free N2000 By just inviting anybody to the bank just for them to download the bank app and use your referral code to register then carry out some simple task which we are about to share with you guys.
We've explained a lot in our old article that implies how you can get the free 2000 and 3000 from SC bank view registration can check the article out to get some other point in details from there that lets you know the truth.
How To Get 2000 Standard Chartered Referral Bonus 2022
First you need to download the SC mobile app or standard chartered.
Click here to download the app either for android users or iOS user's.
After you have successfully downloaded and got the app installed to your device go ahead and register.
You will be asked to provide some details and documents which will make you be a verified owner of the account.
Go ahead and provide your details like Your full name, date of birth and most specifically your BVN (Bank Verification Number).
Which your BVN is 100% safe with the app it's been use just for verification.
Standard chartered bank is a worldwide operating bank which most people out there are dieing to have such an account with.
For your info they are part of the sponsor of the Noble team Liverpool so they have no illegal stuff to do with the details you provide when registering.
Make sure you provide your appropriate details and once you are asked for a referral code use this 400028020 as your referral code.
Once the account has been created successfully and you have been given your account number then there are some certain things you need to put into consideration which you as an invitee or invitees must carry out before you or the person you invite must do before you can get your free N2000 referral bonus from standard chartered bank let's look into it.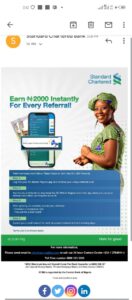 How To Redeem The N2000 Standard Chartered Referral Bonus From The Mobile app
Once you have finished with the registration log-in to the app view your details and perform the following tasks.
First make sure you carry out transactions on the app to test run your account.
That can be done just by sending any amount of money to your SC account standard change account.
Funds can be sent to the account through your other bank transfer methods.
Get your Standard chartered account details and transfer at least 500 or 1000 to the account.
The Transaction process has been done that way.
What else is to request for a Debit card through the SC mobile app too.
Which request of such Debit card which we also call ATM card for free and you will be given a Gold Visa card as stated.
The card will be delivered to you for free without having to visit any bank or standard chartered bank.
After that then you should be expecting your referral bonus reward within five days.
No limit in the number of people that you can invite to the platform. The best part is just for them to carry out our above task.
Once the task has been carried out then you will be given your referral bonus that's all.
How Can I Get My Referral Code Or Referral Link From Standard Chartered Mobile App
It's very simple once you are being signed or login to your account and view the app.
Just hit the menu button on the top left side of the app.
Below the menu option you will find the bonus name Invite your friends & family.
Hit on the button and get your referral code from copying the code and use the share button available to get your own referral link.
Can I Withdraw My Referral Bonus On My SC Account?
That's a great question and the answer is simple.
You can actually withdraw your standard chartered referral bonus to any bank of your choice once you have been granted the rewards.
No limitation in withdrawing once you've successfully created your account.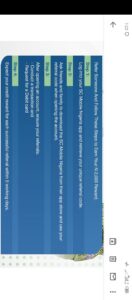 I think we have nothing left to say. My question is have u been able to get your own referral bonus from the great bank?
Let us know your point of view about this huge referral program from standard chartered.
Our telegram channel is open for fast updates.