Due to the lock-down in Nigeria mostly the range at which people look for online money making platform or money making site have high not because of one thing but the pandemic of the coronavirus outbreak, since we are specialized in bring money making tips to you we find a new way on how to make money online without much stress which is from a platform called Alat by wema bank in Nigeria. 
Alat is an online banking which is owned and being operated by wema bank seems they have collaborated with each other just to make life at banking smart and better, actually this platform has been available ever since 2017 when it was first introduced I also opened the account then just with my smartphone I got everything done. 
With this app now, cause it an app that you will open your account from. The Alat app helps us open the account and get an account number through the app too but our main target is how we can earn through the app from the platform. 
Alat app now attached a referral program to the program which whenever you refer someone to the app with your referral code you will be rewarded for that, it seems like soft work right? 
Our main aim on this article is to teach you how to open the account, get the app and start earning with the Alat app. 
How To Earn From Alat App By Wema Bank
This is how it works when you have successfully opened the account then you fund your account with at least 500 and you refer someone with your code then the person register and also fund his/her account with 500 too you will earn referral rewards of 500 cool right ?
Now we move to how we can get the account open and start earning from the alat account without stress. 
How To Open An Alat Account By Wema Bank
Download the Alat App from here after you have installed the app.

Open it and click on sign up, you will be ask to make some details ready like:

The BVN Bank verification ID, your Passport Photo And Your Signature already signed on a plan book for capture.

Proceed and click on the next button to provide the details that were asked to fill in the form.

Click on next and provide the appropriate information.

whenever they ask you for your referral code this is your referral code: UGK7Z7 which is very important, it makes you to be able to perform in the program.

Then click on next after success registration you will be provided with a Brand New account number.

Go ahead and transfer 500 to the account from your other bank. 
You have successfully opened the alat account now it time to know how to earn from it, with the help of their referral program. 
How To Earn Upto 5,000 From Alat By Wema
Open the app and log-in after you have gained access to the app.

Click on the menu bar button located and the top left of the app

Find the option for Refer And Earn Click on it and copy your referral Code ( UGK7Z7 ).

Share it with the person you want to refer to the platform.


Lately tell the person to register with your code and fund his/her account with at least N500 that's all. 
Things To Note About Alat Referral Program 
The person must fund his account with atleast 500 before you can get your refer reward.

Strong Internet Network is recommended whenever you want to register with the app.

Make sure the app is downloaded from play store and not other platforms.

Provisions of BVN to the platform are 100% secured.


If you follow the steps well you will surely be rewarded. 
Now it's time to pick-up your mobile phone and get to work using the time you have when you are at home. 
May God Continue to protect us from the deadly virus #StayHome #StaySafe. 
Related Queries 
wema bank online
wema online
wema bank app
alat login
alat by wema
aalas alat
alat app
wema alat
alat transfer code
Related Question
How does a Alat work?
How do I qualify for an Alat loan?
How do I make an Alat account?
How do I activate my Alat card?
Alat Payment Prove Or Alat Referral Payment Prove
Here are some payment prove from the people that have run the program before:
As you all know we don't bring fake stuff to you, so try to join the program and start earning. you get 500 for anybody you refer to success and think of it 500 x 10 is how much 5000, me and when you refer 10 people you get 5k it is quite easy or not? 
Pls we recommend you should always bring a reply to our questions. 
This problem seems not to be available again account to the screenshots below: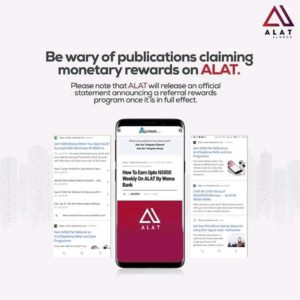 Thanks as you do, keep supporting us as you always do for our telegram channel. It is still 100% active. You can join to stick with us till the end.