Actually is been a long since we post or make reviews on money making, But as of now am I will introduce you to a Survey and refer program online which will make you earn as much as you can through their survey and refer program. 
The platform that offers these programs is known as Voice Africa a platform that allows you have a Nigerian or likely Africa to answer some survey questions due to research and also allows you to refer your friends to the program and earn also (Earn Up To N5000 On Voices Africa). 
In this Article, I will lead you through the ways how you can register on this platform (Voice Africa) how you can attain their Surveys, and how you will invite your friends to the platform but before we processed I will like us to know more about Voice Africa 
Voices Africa is a survey program that's designed for people who will like to share their honest opinions, ideas, and personal preferences by participating in surveys.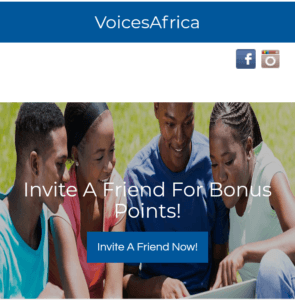 I will likely let us know how Voices Africa Works, VoicesAfrica pays $1 which is 361 naira in Nigeria currency for every 1,000 points you earn. Sounds Superb right Yea, it should be.
When you refer someone to the app, you earn 50 points. you are also eligible to participate in survey programs and get paid.
Also Read: How to Earn More Than N30,000 From Your WhatsApp Business Account
For the new members, if you use my referrals link below to register, you will get FREE 500 points instantly as you finish your signup (Earn Up To N5000 On Voices Africa).
Ways to Withdraw
You are eligible to withdraw your cash as airtime or as cash straight to your bank account(Earn Up To N5000 On Voices Africa).
How Can To Register On Voices Africa
Kindly follow this link Click Here to register on Voices Africa.
Then Fill in your details appropriately ranging from first and last name, email, phone number, and other details then tap on Sign up.
A confirmation email will be sent to your mailbox, Visit your mailbox and Make a Confirmation of your Email. 
After that log in to Voices Africa and you will be given free 500 points instantly, if only you used my referrals link.
How To Withdraw On Voices Africa
When you have accumulated the minimum of 1,000 points which is 361 naira, or even more.
Kindly tap on "REDEEM POINTS" and fill in your email, number and finally withdraw it as cash to your bank account or as airtime.
How To Copy Your Referrals Link On Voice Africa
Simply tap on "invite a friend" A link will be redirected to you view a box or you can also enter another email you have so that the link will be sent to the mail, Then you can go there and copy the link and share it with your friends to earn your Rewards. 
You can also download their app from the play store to your mobile to make it easier for you to participate in the program see the screenshot below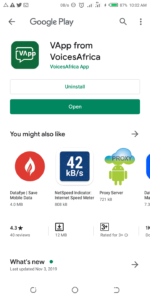 you have any doubt about the survey program? ask below view the comments box and an instant answer will be brought to you. Thanks enjoy participating has an African on Voice Africa.