Are you looking to double your sales profit using a sales funnel? Do you want to make more money setting up your first sales funnel?  Are you a digital marketer looking to increase your personal and company revenue using a professional sales funnel? If you say 'yes' to any of the questions above, then this post is really meant for you.
Wait! Do you know the old sales rule that says "Room doesn't sell the mattress, you have to go out there to market it." But that's actually an old rule. It doesn't apply to an internet seller. He's now open to bigger opportunities to sell even while he sits on his toilet WC. 
If making more money selling online is one of your first priority gets closer here. If by now your only means of selling are still mere social media posts, slides of Whatsapp status, Instagram story pages, and spamming DMs, you're sleeping on the bike and you're simultaneously leaving a lot of money on the table to your competitors.
Let's get real here, you can write your own new sales rule. You can recreate your own rule like this "Room sells anything. You don't have to step out of your door if you have a sales funnel.
I know you'll say what the heck is a Sales Funnel? Keep cool, I got you here, sit back as I take you through what a cash vomiting sales funnel should look like and how to focus on the most important things while selling with your sales funnel.
What is a Sales Funnel?  
A Sales Funnel is the digital marketing tool used to take a prospect from the point of seeing your products to the final point of buying from you and as well retaining them as your basic, premium, and high ticket buyers.
A sales funnel is well set up professionally to give a potential buyer an easy buying experience.
Typical structure of a Sales Funnel
Most Sales Funnel has no one size fits all structure. Use what works for you. Build what serves your visitors. Promote what will make them buy. 
All funnels have at least one or two of these sales funnel structures
Lead Magnet: A lead magnet is usually a landing page giving free stuff which could be an Ebook, free entry to the master class, free course, and free membership with the sole objective of gathering the potential buyer's data against future follow up.  
Squeeze page: You can either use a squeezed video and/or a text and picture squeeze page to get buyers to take action by either signing up for a membership program or buying your digital and physical products on the go. This is usually for offers of a lower price.
OTO 1: With onetime payment one, you're can enable your buyers to subscribe to a higher offer which literally speaking can be costly.
OTO 2: As the first onetime payment, this is ironically a second-time payment. It's all up to you to sell the right offers that will get them interested in the right page.
Check out the page: On this funnel page is where you collect their money into a more secure channel of online payment. Not all users/buyers will be interested in doing bank to bank transfer. With the help of a checkout/payment page, they can pay outright for your offers using their bank cards, get their billing addresses, and contact emails.
Confirmation Page: You can call this with me a Yipee page! It's the last page you tell them all the most heartfelt messages even before they get your first welcome mail. You simply tell them to thank you, come back tomorrow (Of course, there should always be new amazing offers for them tomorrow, that how you learn to sustain the sales chain_ but that's a story for another time).
Why in sales should you have your Sales Funnel?
Lately, on my social media handle, I worked with some group of small business owners create their first cash vomiting funnel, if by now you too do not know why you really need a sales to funnel, stand up, get a cup of coffee, get a couch, sit comfortably as I show you 5 top reasons you should consider getting your first sales to funnel set up before you can make more money selling online.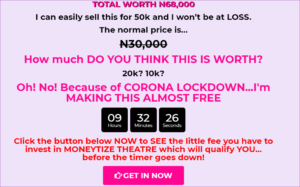 Get this straight; sales funnel helps you collate all your sales information on a single page or more without the fluff. You can input your long sales letter, your illustrational pictures and info videos all in a single funnel page. Would you ever try that on any other platform?
 You can even automate your sales funnel and make it generate cash for you even while you're sleeping since there are over dozens of tools that helps in the automatic payment process, delivery, and lots more.
 Sales funnel typically help you increase your sales. This is not about casting abracadabra or deceiving your visitors by screaming buy and buy but you can write your sales copy well, design your pages to appeal suitably, and collect people's cash when they see the VALUE your OFFERS carry.
Funnel tools like Countdown timer let people take fast actions. But unlike social media, when it's gone, it's gone! Sales funnel can help you give an automated second chance to your buyers without you lifting your thumb for changes.
 You have the right to resell your funnel data, templates, and tools. You can even give Affiliate Marketing Ninjas the right to sell using your sales pages. 
 You can run digital ads to your funnels directly from social media like Facebook, Instagram, and Youtube and even from SEO like Google but you can't do that for mere social media timeline posts.

Conclusion
We're yet done. I will take you further on how to build your first cash vomiting funnel. This is a preamble to let you know exactly what a sales funnel can predictably do for you, why you need one, and trust me when I say just anyone that wants to double profit online can sure use a funnel. You also don't need to go and learn coding or web creation even a hospital nurse created her first funnel to make money while increasing her sales from mini importation. You can do it too!