Do you know that you don't need to visit any cyber cafe before you can check or print your waec 2010 result, we've looked into that and noticed that most people don't know how to check waec results 2020 and how to print waec results 2020.
We also wish to inform students who partake in the waec exam ( WASSCE)  school candidate exam that waec official has officially announced that the result is out left for some candidates to know how to check their waec result without any stress. 
To bring more confirmation to the waec result release announcement date we go for some little research and difference that waec officials made this announcement themselves. 
Which implies that one can now check and at the same time print the result out there self without any stress let check it out.
Requirements Need To Check Waec 2022 Result 
As stated by waec Nigeria officials.

Result checker pins will be needed.

Serial number attached to the pin is required.

A smartphone device or computer.

Internet access to visit the Result checker site.

Candidate smart identity card will be needed which will provide all candidates with pin and serial number.
So nobody is expected to buy and get any scratch card from anybody or any cyber cafe. Let's get to know how you can check your waec result and print.
How To Check Waec Result 2022
After you have gotten your result checker pin and serial number. 

Which is provided on the candidate identity card. 

Visit waec websites www.waecdirect.org which is their official page. 

Now you will be asked to enter your Waec examination number. 

Provide the exam number in the required space provided for it. 

What else is to make a selection on your exam year which is 2022.

When you have successfully selected the year of the exam. 

Next is the exam type which is stated to be School candidate Result select it. 

Then you will be asked to enter your Serial number which is provided on your Waec Identify card. 

Input the serial number and also input The Pin. 

Bothe the Pin And the serial number are all provided on your waec identity card. 

After that you can now hit the submit button then you will see your result smiling at you.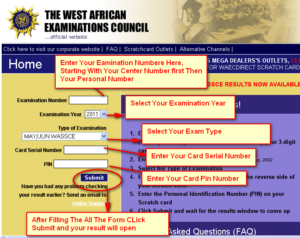 That all about how to check waec result 2022 result with waec result checker now we move to the process on how you can get to print this result out info of soft copy or hard copy. 
You can actually print this result out which will be info or PDF that can be viewed on your device with the help of Wps office or you print it out yourself.
How To Print Waec Result 2022
Once you have been able to check your waec result view the process stated above.

Then you can at the same time print your waec result online with your info of pdf or doc file.

On the page you see which provide you with your result when you click on the submit button

Now scroll down the page and find the button called Print.

Click on the button, then you will be provided with a page to save your file.

Or convert to pdf depending on the device.

Once you click on save or print, it has a pdf button.

You will be asked to give the file you are about to save or print a name.

Give it a name and select the appropriate location that you will like to save with the file.

Note that this must be done online, after that hit the save button or print button.

Then your file will download info of pdf which you can open and send to anybody you wish to send it to.

You can also visit any cyber cafe for printing a hard copy of the result.
That's all about that we wish you best of luck and good result whenever you check your result.
You can actually join our telegram channel to stay tuned with us.