Gramfree has really become a trend on social media these days, if you are an active user of Facebook you would probably know what am talking about. But what people ask every time about this platform is if it's legit or a scam. This article portrays our opinion about the platform and what it's all about.
WHAT IS GRAMFREE?
Gramfree is an airdrop just like Ecoin, claiming to reward its users in Gram. Now you might be wondering what Gram is–Gram is also a cryptocurrency but based on a TON, an acronym for Telegram Open Network, TON was built by Telegram as a blockchain platform– There are lots of activities on the site that can earn you up to 6 grams daily.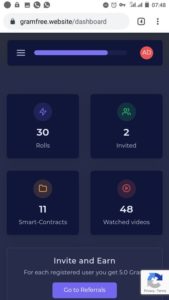 Below are details of how to earn.
HOW TO EARN ON GRAMFREE
For every activity, you perform on the platform you earn rewards ranging from 0.1 – 5 grams. There are 2 main ways to earn, which includes activities and of course referrals.
ACTIVITIES
For each activity you perform, you earn a free gram.
Spin: you are allowed to take a spin every 1 hour and earnings depend on how lucky you are.
Smart contract: you are offered new contracts every day, all you need to do is accept and earn. When you accept you are presented with two options which are a normal contract and a risky contract, the normal contract cost you 0.1 gram which could later earn you back 5 grams, or the risky contract which costs 1 gram but could later earn you 10 grams.
Lottery: you might as well play the lottery with your earnings on gramfree. Grab a ticket and hope to get lucky. However, winning a lottery might be harder than you think.
Watching videos: you get paid for each YouTube video you watch on the platform. Watching a video is fixed at 0.1 gram per video.
Creating videos: you also get to create your own YouTube video which will earn you a lot, you get 5 gram for each approved video you created.

Other means of earning gram includes
Sign up bonus of 10 grams
5-gram bonus for completion of each level
REFERRALS
Now the other phase for earning is referring, this is especially good for those that are good at referrals, you get 5 grams for each person that registers on gramfree with your referral link so the more you refer the more you earn. No wonder there are so many adverts about Gramfree on Facebook and YouTube, you actually earn a lot from referring.
However, it is important to note that referral is not compulsory for you to withdraw your earnings and earnings can be withdrawn when you reach the threshold of 500 grams which is equivalent to a thousand dollars ($1000).
HOW TO JOIN
Do I have to pay?
No, you definitely don't have to pay a dime to get registered on gramfree, grab the link, register, and start earning, it is totally free!.
Alright! How do i get started?
It's easy, simply click on the link ▶Here◀ fill out the form, and start earning.
What are the payments methods?
Gramfree offers lots of payment options for its users, you can wish to withdraw through Bitcoin, PayPal, payeer, or payoneer.
All good but is gramfree legit or a scam?
The only proofs we have on gramfree are the testimonies given by other users on the platform apart from those, we have no other… Proof as to if gramfree is legit or not, but it's completely free so what do you have to lose anyway??.
Join us on telegram Here to receive the latest updates on more money-making tips.