Actually, these cheats have been available for quite a long before it was posted here, and right now as I was saying the cheat has been reported to go care so the deal is 50/50 it either it works for you or not but you can still give it a try cause it actually works for us go unlimited.
Glo unlimited Activation
These GLO CHEAT PEOPLE SELL FOR EXPENSIVE AMOUNT But it's our Duty to drop it for free as you all know we do our possible best to fetch out free browsing tips for you on daily basics.
Some Stupid source of people will report the cheat that's for sure we all know how things go on now in Nigeria.
So don't dull be fast and grab this greate opportunity well let being to the way of the unlimited browsing with glo baba glo unlimited.
Glo Unlimited Requirements
SIM: 2 Glo SIM Cards
Platform: Android/iOS
Internet:3G/4G
Airtime: N200 (Minimum)
Tariff Plan: Glo Yakata (*230#)
Activation Time: 2 Hours+
How To Activate Glo Unlimited Free Browsing
Method 1 For Glo Unlimited Activation
When i said unlimited yes i mean my words unlimited (glo unlimited) which you will stand a chase to use up to 100GB plus yes unlimited data sound awesome right, up to you so it high time to
Act fast in utilizing it since you know about it now,not many will want to share this for free due to greed, but it has been shared on some groups already, so before it goes viral and then blocked since the ISP will be alerted, make use of this, please do not violate the data, download only necessary things. Be smart with these glo unlimited
Glo unlimited Activation Method 1
1. Get Two Glo Sim Card
2. The first must be on Glo Yakata – dial *230# to migrate
3. Load N200 Naira Airtime
4. Subscribe to N200 Data Plan (Yakata Gives 250MB instead of 50MB for 1st-month recharge)
5. Now all the 250MB will be on your SIM, after 2 hours or Exactly 2 hours…
6. Share the data to the second Glo SIM (dial *127*01*[friend's number]#)
7. Browse Unlimitedly, the 250MB data plan will not be touched,


Note: That you subbed to a 24 hours plan, so after that, it will expired in 24 hours.But if you choose more higher plans like 7 days or a month, that is unlimited for a month.
Method 2 For Glo Unlimited Activation
if the first method did not work for you you can go straight and try out this alternative method it will surely work for you indeed let being. It is still the same requirement as said above but some things might change just try to follow up.
Glo unlimited Activation Method 2
Has said earlier you still have to get 2 Glo sim.
likewise, your first sim have to be on glo yakata, but in this method you will have to migrate to another plan Called Glo bounce.
So now let being with the next step on how you will confirm whether you are on Yakata or Glo New Yakata.
Note: Yakata plan is different from Glo New Yakata So you have to note these doing the process of activation of this unlimited cheat let proceed.


Glo unlimited Activation Method 2

Now Dial #100# on your phone to confirm the plan you are activate or your Sim is activated on.
If your Sim is on simply "Yakata" Plan then you have to proceed with the next step but if it show "Glo New yakata"
Then you have to migrate to the Main Yakata by Following below steps.
Dial *170*4# to Migrate to Glo Bounce, After that dail *230# or *310# to migrate to "yakata" plan.
When you are landed with a successful message to yakata plan
the you can now dial #100# to confirm your migration.
The Next Thing is to load N100 to your line After you have load the card you will receive A message saying
"Recharge Successful You will receive bonus of 40MB to your data balance soon".
When you are granted the 40MB.
All you have to do now is to Wait for 2hrs then share it to your Second sim i mean share the whole
40MB to your second line or sim by dialing *127*0*your second number# Then send .
Finally start browsing unlimitedly without your data (40MB) being touched enjoy.
Process To Activate 250mb for the Glo unlimited cheat
These process will be explain in visual ways and text way so you can check out both view below eexplanations: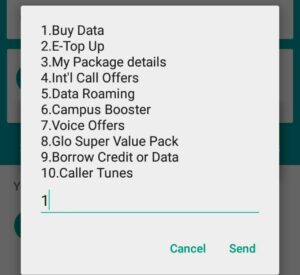 Dial *777# on your first glo line that you wish to activate the plan on (The one on glo yakata)
Switch and Select the option for Buy Data.
Then Go for Buy 3G-4G data plan Auto renew Selecte 1 for that and click on send.
Now Select the option for 5 for special Data offer it will post out the Next menu has show below.
Next option to select is 2 which is Campus Booster plan.
Finally Go for the one of 250MB which some plan too are attached to it By Selecting option 2 listed has 200 for 200MB + 250MB on Campus + N200 Airtime plus + 50MB Data to Gift Four day's.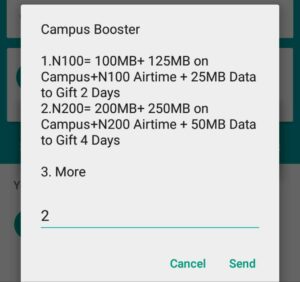 After taking the final steps to Activate the 250MB data you know the Next thing to do which is to wait for 2hours before you Share the data and start browsing in an unlimited sounds awesome?
Glo unlimited Activation
Stay tune More cheats vibing (glo unlimited) in soon so don't hesitate to not share and support us join our telegram channel here for more related cheat vibe,
if you have any question state it on the comment box for instant reply enjoy surfing internet in an unlimited ways but still remember act fast.
How to Use Glo unlimited on PC, Laptop Desktop.
All you have to do so that you can use the glo unlimited on your pc is to just share the data to your other device view Hotspot or
you find a router that support multiple Sims or Third-party sim Simple word Universal Router then start browsing unlimited with the sim on your device…
You can also check out other free browsing cheat on out site working and legit ones like
9mobile Social me pak 2GB and 500mb all together 2.5GB Social me browsing with HTTP injector and more.