Actually this isn't a cheat it just a traditional way of subscription so we've found most of the people activating glo data for people with little amount we've find ways which they are going about by them having huge amount of knowledge and selling it out, huge about of data like 30GB, 50GB and above don't still can't figure the way to go about these maybe glo just invite a replacement data plan that you simply can subscribe and obtain huge amount of data as stated above.
For some months or likely week ago  we make on post on how you'll browse unlimited with you glo line (Glo unlimited Browsing In 2020) which was later block by glo network providers there self, that creates us to seem around and convey alternative thanks to you but mind you ask we said earlier it not a tweak nor cheat so persist with us if you're still interested.
How To Activate Glo 30GB For ₦2500
The process is straightforward nothing much to try to to just:
Get Ala glo recharge card worth or ₦3000 or ₦2500
Go for glo Subscription OF ₦2500 by dialing *777#
Locate there
₦2500
Subscription plan
Then Subscribe for it you'll tend 7GB plus and other Bonus Data of 23GB plus with make it 30GB or 30GB plus.
You have successfully gotten your 30GB from Glo network services provider.
Although this isn't yet tested by us we just feel you allow you to realize these before it goes viral and perhaps they could deactivate it you'll go and testify it yourself since we already get some proof from our source as shown below join our telegram channel to receive more browsing tips and codes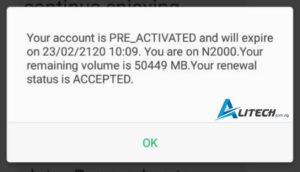 Data Valid For 30 Days
Let know if this data plan worked for you view the comments box enjoy .
Is the Data plan still working?
Unfortunately the data plan isn't working as of 21st of June 2020 however you can still get cheap and affordable data plans from Glo network such as 1.2 gb for ₦200 here