We recently made a post or notice on our telegram channel in which we ask people if they like to know about the glo 93GB data plan. Answer we get seems to be positive so we wish to share it with you guys stick with us to the end of this article to know how to get 93GV for N15,000 that is valid for A month tends to be 30 days. 
But before we move the folder you should know this is not a free browsing cheat for glo free browsing tips, or you call it glo free data tips no it's not it's just a glo data plan that is attached to some glo sim. That is this plan is sim is selective so let's dive into how you can get it.
What You Need To Know Before You Should Activate The Glo 93GB Data Plan
You have to be a glo activate user, that is one that always makes use of your glo sim mostly to browse.
Subscription or data plan purchase on your glo line or sim must be done on a weekly or two weeks interval.
Data plan more than N1,000 must be purchased on a monthly basis on your glo line respectively.
You have little about the process to get the plan done then let's move to the activation process of the data plan.
How To Activate Glo 93GB For 15,000 Valid For 1 Month
Make sure you have glo airtime N15000 worth on your glo line. 
Then dial the code *127*12# and send. 
After you send the code you should land with a successful message as shown below. 
Your glo line will be loaded with 93GB followed by some related plan which the data plan is slide into two 86GB for Day and 7GB for night respectively.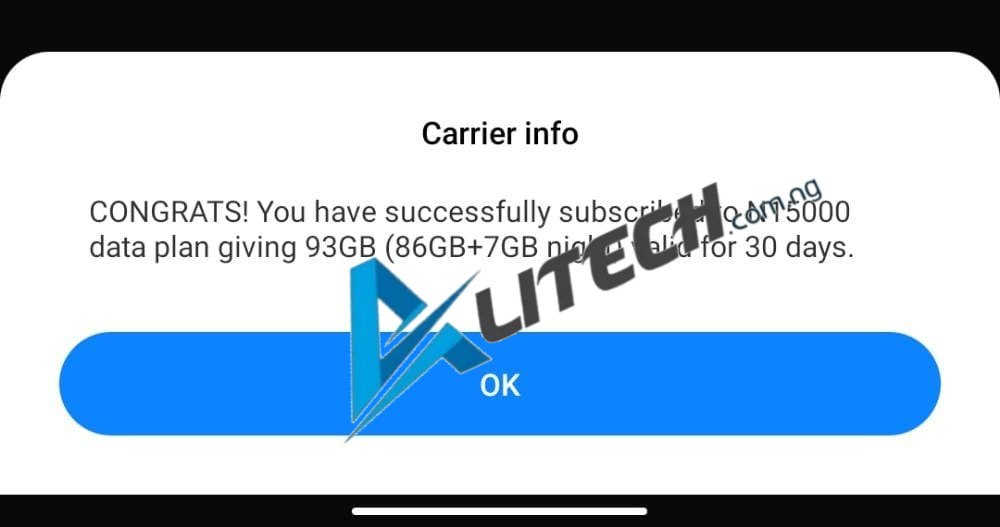 Note: you must have the airtime available on your sim before you dial the code if not it wouldn't work for you. 
All you will get if you don't have the airtime on your glo line is insufficient airtime to carry out operation.
The glo data plan is not for everyone as we said earlier check below for things to note about this plan.
Things To Note About The Glo 93GB Data Plan
There will be airtime on your line before you can confirm if it will work for you or not.
You can know if it will work for you or not unless you try it out by dialing the code and having airtime on your line.
Make sure your glo sim is activated as was stated above before you try the process out.
This plan is tested and confirmed before it's being shared with you.
If you are a global user then this plan tends to work for you smoothly.
The plan is valid for 30 days which tends to be for just 1 month.
Data plan can be checked using same process used to check glo data plan *127*0# respectively.
Have you been able to subscribe to this data plan respectively?
Let us know in the comments section and stay tuned for more related posts.