Download God of war chains of Olympus highly compressed ppsspp roms for free on our site, get all files to play the play the game seamlessly on your device here!
We apologise to all Gamers in the house for the inconsistencies in our games, we promise to continue serving you with only the best of our content. Stay tuned to our telegram channel to recieve more of our exclusive content immediately they are published or even before they are published.
So today we present to you another series of 'God of war', read below for more information about the highly compressed game for your ppsspp.
Overview of God of War chains of Olympus
Just as we have mentioned on our previous article on the game God of War ghost of Sparta, the game was published by Sony Computer Entertainment, this version of God of War was published for the PSP console on March 4 2008. this version of 'God of War: chains of Olympus' is the predecessor of 'God of War: ghost of Sparta', and although the gameplay cannot be compared, this version also packed some intense gameplay and you sure won't have any dull moment while playing.
The graphics of this game can be well compared to God of War ghost of Sparta, superB for high end device users but can also be tweaked for a seamless gameplay on low end device users too(stay tuned to the article to learn how to).
The gameplay features some wonderful adventures and intense action and you restlessly advance from destination to destination till you eventually complete your whole missions, the mystries of this game never ends and as I said earlier "no dull moments". The sounds might be a bit cracky for most device but you can just easily turn it off in settings or just let the sounds the way it is, if you don't mind the disturbance. Controls are super easy to use too, the game offers some easy control that makes the user able to perform more actions with less key combinations. For more easy control on your ppsspp emulator, we have decided to write an article on keymapping for easy gameplay which will be published soon, till then enjoy your game
Graphics Review of God of War chains of Olympus
Below are some graphical reviews of the God of War chains of Olympus game while playing. Enjoy the view!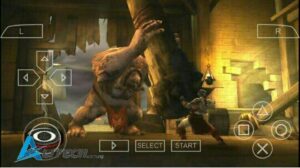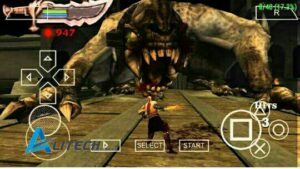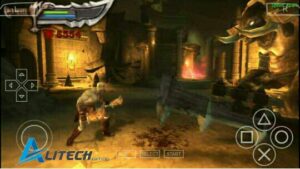 Requirements to play God of War chains of Olympus
Things needed to successfully play the game on your device are listed below.
Ppsspp emulator for playing the game
Zarchiver for extracting the zipped iso file
A storage space of 1GB and above on your device
A Ram storage space of at least 1GB
Your android device version must be 4.4 or above
ISO file
Cheat.db (if you need it)
Installation of God of War chains of Olympus highly compressed ppsspp 
Download God of war and all files required from link provided below
Extract both the zipped iso file and the cheat.db file using zarchiver into a specific folder on your device storage.
Allow "installation from unknown source" on your android device if need be (settings>security>unknown source)
Install the ppsspp emulator app and launch it.
Setup your emulator with the best ppsspp settings or with the one provided below.
Locate the iso file from the folder you extracted it to.
Load the iso file and enjoy your game!
Click here to learn how to set your ppsspp with the best settings.
Click here to learn how to enable cheat on ppsspp.
Download links
Get all the files you need to play God of War chains of Olympus highly compressed below
Download God of war iso file
Other files
Additional Information
Game name: God of War chains of Olympus
Platform: ppsspp
Original size: 1.2GB
Compressed size: 85MB
ppsspp Supported device: 4.4 +
Best ppsspp settings for low end devices
Set mode to buffered rendering
Set frameskipping to off
Take a minute to check our ppsspp and games category for more ppsspp highly compressed games.
Do you have any issues setting up the ppsspp?, or do you encounter problems with the links or files?, kindly let us know via the comments section below, we will respond as soon as we can. Thanks for your time.
Remember to join us on telegram here for more exclusive contents, Alitech is here for you!