Cross bet apk, download cross bet app from here free, cross betting tips for free.
So here's another legit bet app for y'all in the house, we know you have all been looking for more accurate predictions platforms, and we have promised to provide you with the best available.
To all those who were not able to access the vip section of the last palace bet tips app that we published earlier, we are so sorry but there is little we can do about that, the hack is fully supported for rooted android devices only, if the app works for you without root, then consider yourself lucky. So moving on we will be sharing a new bet app today which is cross be appt, this app seems to be more accurate compared to palace bet, although their interface looks the same, additionally we will be providing another way to access the vip section using your pc, for those who still want the vip tips but don't want to go through the stress of rooting their android device.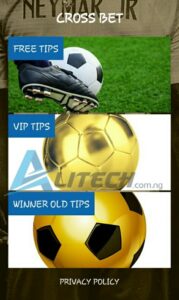 Go through this article carefully to get all you need to know about using the hacked app for your android device or your pc.
Cross bet app
Cross betting tips is just like the previous palace bet tips app we wrote about which offers some free tips on different kinds of sports betting, but also has a vip section where you have to pay an enormous amount of money to get the vip tips, just as the Nigerians that we are, we ain't ready to pay for something we can't even rely on, just always looking for the easy way out, and that is why the lucky patcher app has been a top priority app in our phones, lucky patcher for those who don't know is an android tool that is used to bypass in-app purchase of an app that requires you to purchase something from the app, its also used to remove license verification, remove ads and loads of things (we will consider writing about lucky patcher later and all what you can do with it), so this app has been a very useful tool for accessing the vip section of most bet tips app for free! (can't imagine myself purchasing access to an app for over 60k, that's so ridiculous).
How to access vip section of Cross bet app for free 
The process is quite simple for those who have been following us, but if you are new to this follow the steps below carefully.
(we will not be replying to any queries concerning this app after this, so just follow carefully, whether you phone is rooted or not, just try it out, it might eventually work for you, if not and you don't have a pc, kindly move on with life, or find someone that can share the tips with you.)
Download cross bet app from Google play store and lucky patcher installer latest version from our telegram channel, the direct link will be provided in the download section of this article.
Ensure that your device is set to allow installation from unknown source (to do that goto settings>security>and ensure that unknown source is enabled.)
Install the lucky patcher installer app.
Launch the the lucky patcher installer app and let the app install the latest lucky Patcher app to your device, after that it will request for you to uninstall the lucky patcher installer, uninstall it.
Launch the cross bet app installed from PlayStore and try to access the vip section it will redirect Google billing to you,don't click on subscribe, just exit the app from there.
Now launch your lucky patcher app and click on cross bet from the list of apps.
Click on menu of patches from the option.
Select "create modified apk".
Now choose "apk rebuilt for Inapp and Lvl emulation".
Mark the first two options as seen below and click on rebuild the app.
The app might display a warning message as shown below, click on ok, then a prompt might request you to install another app for Inapp emulation, simply install this app and the patching process will continue.
After taking a while the patching process should be done with success rate of result as shown below (even if the rate is not as successful as this, just continue, it might still work), click on ok.
Now click on "uninstall app" from the menu to uninstall the original cross bet apk.
After uninstalling, click on "rebuild and install" from the lower right corner of your display. Go to Luckypatcher>modified>Cross.Bet>and click on the patched version of cross bet apk, install from there.
Exit lucky patcher and launch the newly patched cross bet app, select the vip section and choose any tip of your choice, a pop-up might show as seen below, just mark the two options and select yes.
Now your tips should show up in a matter of seconds, but if it goes back after clicking, try clicking on another, you might be lucky to get one working eventually, but if there is no luck, just follow the steps below to use the apps on a rooted android emulator on your pc.
How to use cross betting tips app on pc
To use this apps on your pc, you will need an android emulator for your pc, we recommend Memu play, cause it a rooted android emulator, download this app to your pc from the download link provided in the downloads section.
After downloading and setting up the emulator, transfer the lucky patcher app and the patched cross bet app to your pc.
Run the lucky patcher app first, then launch the patched cross betting tips app and you'll be surprised to how perfectly working it is.
And just incase you don't have a pc, kindly look for someone to share the tips with you on our channel, and if you can't find anyone then I suggest you move on with life, thanks👌.
Video guide.
Youtube video loading…
download cross bet app
download cross bet app directly from play store with this link below.Download cross bet app
Download lucky patcher installer from our telegram channel
Lucky patcher installer
Download memu play emulator for your pc with this link below.Download memu play – 1
Additional information
App name: Cross bet apk
App version: 1.0
App size: 5MB
Supported device: 4.4, above
Ensure that you are subscribed to our telegram channel for more free updates on hack tips and lots of exclusive contents.