If you are looking for ways that can help you in dollars or that can help you make more money in dollars if you have a Naira heart then there is another way that can help you make money by making use of the Cenoa app which is the primary reason why we come about this review is to let you know all kind of things you can do with this app.
The Cenoa app it will help you buy and sell Dollars and during the process, you can earn from it which is something we are about to look into and discover how people can actually make on this particular platform. 
About Cenoa
Cenoa is a platform that helps you and in the dollar you can end 5% when you buy and send dollar from their platform that is attached to anybody globally that owns a dollar account with them.
With Cenoa you are prompted to open an account within just a minute which is available for anyone in any way around the world and you can use the account to buy dollars $10 that will also earn you a 5% yield.
Cenoa 5% is what he will get once you invest in dollars on this platform anyone can open a dollar account with them globally as you said earlier.
All you need to do is purchase dollar currency with zero fees on their platform with your local money. 
And you will get to earn a commission once you make the position and convert your local currency to dollars on this platform.
You will get to withdraw or sell or I'm buying your digital currency dollars at a real exchange rate at any time you wish to cancel.
And attach a sending fee or withdrawal fee to any transaction you carry out on the Cenoa app.
One of the advantages of this platform is the 0 transaction fee which in a way does not look like the platform is resulting in money from you is very easy and straightforward.
Once you open a Cenoa account what you need to do next is to deposit before you can think of withdrawing followed by sending or converting your local currency to the dollar and earning commission from that process.
On the noun up you can end lead hourly and withdraw at any time which withdrawal is available at any hour or anytime you wish to get your money back follow up with the percentage yield.
That guarantees that your money is safe and integrated with the UK Financial Conduct Authority license fintech which is what is said to be connected with the Cenoa app and combined with any of your local banking systems.
If you know about Pillow funds then this Cenoa app should not be something strange to you they work in a related way. 
However, it seems that the Pillow Fund has stopped their operation in some countries.
This Cenoa app is built in such a way that it counters any cyber attack and it's a non-custodial wallet that will give you full control of the funds available on your wallet.
The fund should be converted all will be converted to USD See US dollar coin once you wish to save in dollars or digital dollars on the platform.
It has been circulated with all the related fintech companies like Stripe, PayPal, Apple Pay ETC.
They claim it is annually reviewed by the SEC and is one of the most secure and reliable blockchain platforms that is being used to access digital dollar currency.
They claim they will also offer some other services like providing their customer US dollar-based debit cards and US dollar-based or payment. 
Your local bank account deposit and withdrawal for buying and selling dollar currencies are now available in 28 countries including Europe UK and Turkey.
Now is the time to know how you can access this platform which is how you can get an account with them and start making money by buying and selling dollars or depositing dollars with your local currency on Cenoa.
How To Download The Cenoa App
The Cenoa app is available on the Google Play store you can just use the search button available on the Google Play store to search for Cenoa Dollar Account For You and download or you can just download it here.
Or just Cenoa and you will be provided with the app published by Cenoa Pte Ltd.
Once you've gotten the app you can use the process below to learn how you can actually open an account with them.
How To Open A Cenoa Account
Open the app that you just downloaded. 
You will be provided with a different option follow-up as a sign-up login and I have a referral code. 
Click on the I have referral code option and use this LS13FQ2K as your code. 
Then your referral will be recognized and you can proceed to the signup page by clicking on the continue button. 
Within just a minute you should be able to open the account. 
By just providing your phone number that is attached to your country code. 
Then you will be sent a verification code instantly so as to verify that you are the actual owner of the number in question. 
From there you will be asked to provide a valid email address. 
After that, you will be asked to input a six-digit password twice. 
You can now click on the continue button and agree to the policy. 
You will not need to link a Google account to your Cenoa app. 
Grant the app access so as to help you create a wallet for your Google account. 
From there you will be asked to turn on notification or off and you can select any option. 
You will now be asked to use a face ID or biometrics option for security purposes if your device enables such. 
After that congratulation, you have successfully created your Cenoa account which you can now utilize by depositing through your local currency. 
How To Deposit On Cenoa App
You can deposit on Cenoa using the deposit button provided on the app's main menu.
Once you click on the deposit button you will be redirected to a page to select the option that you would like or would like to use and make a deposition.
You can deposit using your bank transfer airtime and other ways.
Deposition can also be made by using your crypto account like Binance, Coinbase, and so on.
Select from the option then you will be asked any amount you would like to deposit.
The country you are depositing from should be selected automatically.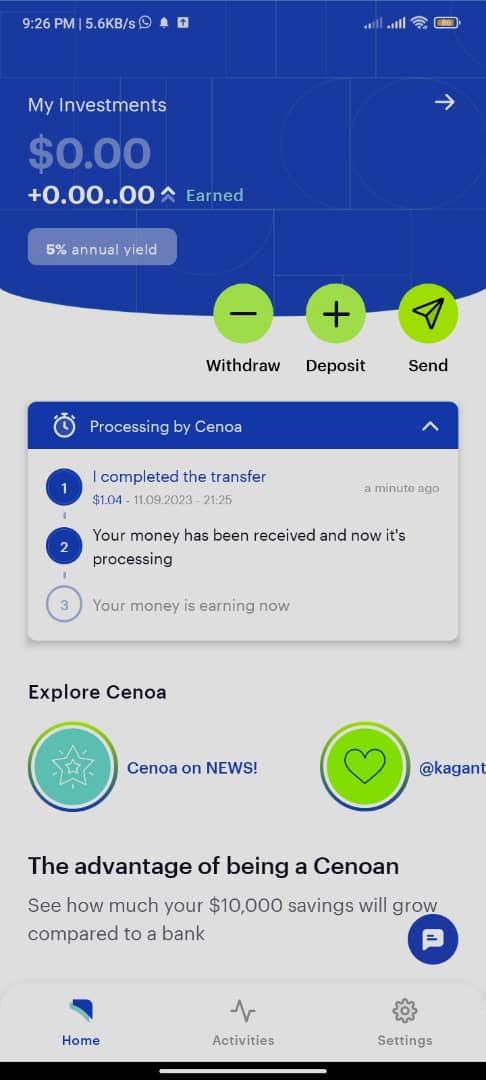 You can proceed to make the deposition by either transferring to a bank or local bank or using a cryptocurrency account.
How to Earn From Cenoa
You can actually earn from Cenoa once you just deposit money into your account which is converted to USDC.
If you start seeing 5% of the amount you just deposited and money you will need in the next 15 years as follow-up.
Which you don't need to carry out any other process like trying to invite yourself all you need to do is to just deposit money then the money will start making an investment in itself.
That is one of the ways that you can earn money on the Cenoa app.
Which you can also use the app to buy or sell dollar digital currency sent to related parties.
That is you can also use the app to sell digital or dollar currency to another person that has a Cenoa app or account registered.
Another way that you can also earn money or make money from the Cenoa app is by referring your friends to the platform where you can learn how to get your referral code below.
How To Get Cenoa Referral Code
Do we need to deposit to your Cenoa account before you can start referring It is stated that he can get $1 as you refer your friend to the platform and your friends will also get $1 registration bonus once they successfully deposited to their account.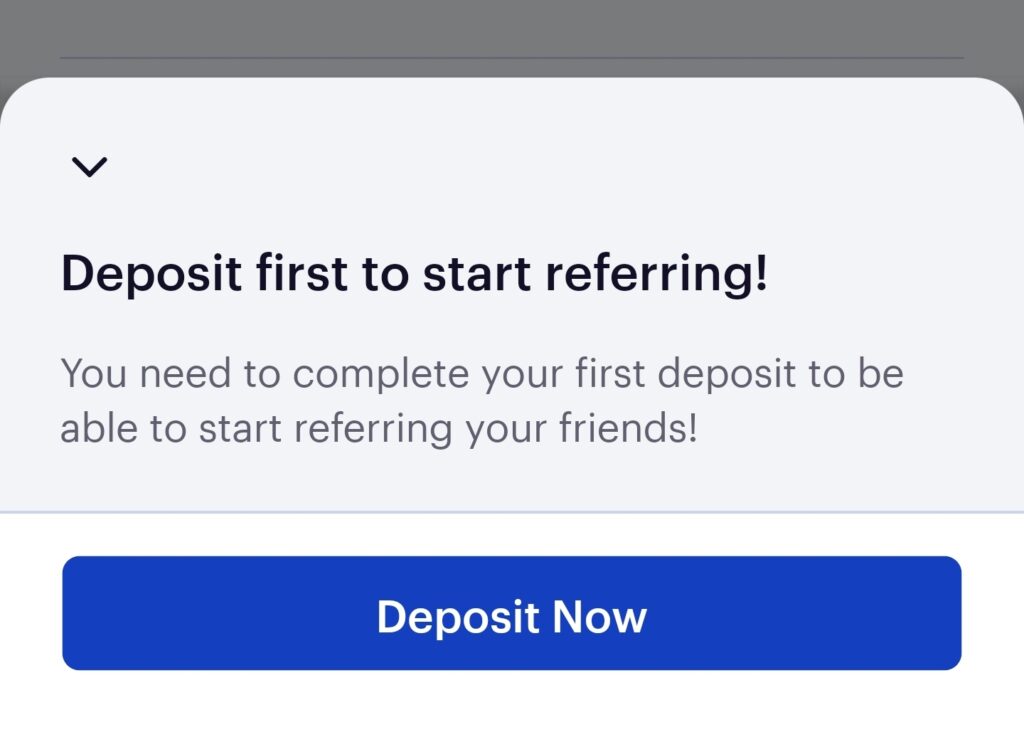 You can get your Cenoa referral code by going to the app under settings Then you will see invite more and earn more or refer your friends Click on the button once you successfully deposited then you should see your referral code presented to you.
That's just how you can get your Cenoa referral link or code.
How To Withdraw From Cenoa
The withdrawal button is not hidden, once you get to the app on the main menu you should also see the withdrawal button beside the deposit button.
You can withdraw your money anytime you want on the Cenoa app.
Final Say
We have come to the end of our review about Cenoa Review, if you have any other things you would like to add to the article or any other thing you would like us to bring to your notice about this platform then you can ask below in the comment section.