For some days ago now we have been spotting South Africa audience on our page they mostly come for free browsing cheat just for them to get free internet access so we choose to bring to them the latest cell c free internet hack 2023 on a VPN called Http injector with the help of this VPN if possible you can browsing unlimitedly with your cell c network strictly unlimited browsing for south Africa's view cellc let proceed.
To our humble South Africa members, we choose you to test this tweak for we were unable to make a judgment to the tweak at our end but it's strictly unlimited browsing on cell c which lead to the cell c free internet hack 2023 for south African so that you can be able to browse freely and gain free internet access view your cell c network.
There is nothing much to say this free browsing cheat as been available for quite long and it's still blazing so we choose to share it will you so that you can keep enjoying the free internet access on cell c let get to know some requirements which we will make use of so that we can be able to hack the internet for cell c.
Requirements For Cell c Latest Unlimited Internet Hack 2023
After that, you can proceed to the next step which involves the configuration of the VPN so that you are able to browse freely on your cell c mobile network.
How To Configure Http Injector For Cell C Free Internet Access Unlimited
After the successful installation of the Http injector.
Open the HTTP injector and import the config file.
By clicking on the import menu from the injector menu bar.

Locate the configuration file (config file) you download from the above link.

Then import the Cell C unlimited config file.
Now hit the connect button and start browsing unlimitedly with your cell c mobile network.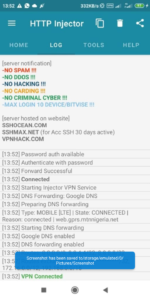 By following the whole steps above you have successful hack cell c for free internet access in 2023. What are you still waiting for don't you enjoy alone, invite your friends to enjoy the free browsing cheat too?
A lot happens on Our telegram channel try to join and gain many more goodies from there.