Mtn data sim as been something that has been going viral for quite long which let's say 10% of people that love to make use of mtn free browsing cheat have access to make use of this cheat because it's strict available and eligible to does who are able to get the mtn data sim at high price being charged by some people out there. Today we will be showing you how you can get the mtn free browsing data sim with the help of anonytun vpn settings and why it is the VPN which was just discovered.
We actually also compile an article on same mtn data sim free browsing cheat which you will make use of a VPN called Ec tunnel VPN but the founder which seems to be the owner if the VPN seems to firstly remove the plan from his VPN due to some fault like heavy usages of the VPN with the mtn data cheat, downloading, torrent with the VPN and more, but he seems to have add it's back now but something attached to it. While he limits the usage of the VPN we the data cheat. 
Nevertheless there is always solution for every problem, although there are numerous VPN out there which you can use the mtn data sim cheat for but seems to be premium or some charges attached to the VPN which sounds bad, because after you might have use some huge amount to purchase the sim then you will still now pay for another VPN before you can be able to make use of the mtn data sim free browsing cheat lol that's why we've brought to you an alternative to all this which us anonytun VPN settings. 
The anonytun VPN settings for this free browsing cheat is free, no limitations of usage, no browsing limit, fat and downloading and More but this can only happen only if you have the data sim. 
Let's still checkout some requirements of this free browsing cheat of mtn data sim on anonytun VPN. 
Requirements For Mtn Data Sim Free Browsing Cheat On Anonytun VPN
Anonytun VPN App is need Download it from here 

Anonytun VPN settings for mtn data sim will be stated below. 

Mtn data sim, we don't have one and we don't sell. 

You can get the data sim from anyone you might see selling it. 
Once you've gotten the requirements then you are good to go and get your mtn data sim working with unlimited browsing and downloads view anonytun VPN. 
How To Set-up Anonytun VPN For Mtn Data Sim Free Browsing Cheat
Disclaimer: We don't have any data sim and we don't sell one all we did was to help people with the sim to get there sim working with the VPN settings, so pls don't come to us and ask for any data sim or how we came up with this thanks for understanding. 
After you have downloaded your anonytun VPN, open it then from the menu bar. 

Click  on "Stealth Settings" And turn on. 

Then follow up with the rest of the setting as stated below. 
Your connection protocol should be set as TCP.

And the connection port should be 4433.

Now turn on you Connection via proxy and so as follows 

Where the parents proxy settings should be set as proxy host should be 52:179:18:224 and the proxy port should  be 8080 after you enable the settings by clicking on ok. 
Now we save our settings and move to the next part which is setting of the mtn data sim APN so that it will workout smoothly with the VPN as follows. 
Mtn Data Sim APN Settings For Anonytun VPN Settings 
Goto your mobile network settings and select the preferred network which is to be mtn. 
The slide to APN or Access point setting and add a new APN.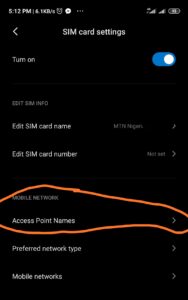 Make sure you set it up as follows.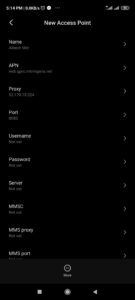 Name: Alitech Mtn

APN: web.gprs.mtnnigeria.net

The Proxy and port should be the same with the one stated above [ 52:179:18:224 and 8080 ]

Leave the rest as it is and save then move to the main menu back and make this new APN you created as default. 
After then you can now turn on your data sim internet connection then slide back to the anonytun VPN then you click on the connect button for your data sim should start browsing for free in an unlimited way. 
Let us know if this anonytun VPN settings work for you because it has the mtn data sim, stating it views the comment section. 
And for those who don't have the sim yet, all you have to do is to join our telegram channel stay tun maybe we will have better ways and better options for you to get your own data sim soon, or we recommend you should just stay tuned for any free browsing that might be coming up soon.