You might be experiencing some difficulties in getting your airtel unlimited connection using the ha tunnel VPN settings that was shared on this page or the glo unlimited process using stark VPN, which glo network might not be strong in your area. This an alternative to all that which is the 9mobile unlimited free browsing using the hatunnel VPN or plus VPN.
By following some simple or easy steps you will get to know how you can get your 9mobile connected with the hatunnel plus VPN and be able to browse unlimitedly right. You will like to know what it's required to get this done, that should be stated below.
Requirements For The 9mobile Unlimited On Hatunnel VPN
Download Hatunnel plus VPN here. 
9mobile hatunnel config file download here. 
Strong Internet connection and make sure you have small data on your 9mobile sim.
Make sure your phone supports 4G so as to enjoy it.
Disclaimer: We are not in any way responsible for any free internet stuff  or publish on this page, all we provide is tutorials for educational purposes only. 
How To Activate 9mobile Unlimited On Hatunnel Plus VPN
Once you've downloaded and installed the VPN on your device, what else. 
Is to download the config file using the link above. 
After you download the file check if it has a .txt extension attached to the file. 
If so go ahead and find the file on your file manager and rename it by cancelling the extension and leave it with .hat 
After that click on it and select import to hatunnel VPN plus. 
Or open the VPN and import it directly by finding the import button on the top right corner of the app. 
After importation of the file is successful, load airtime on 9mobile sim and subscribe to any small plan. 
Use the code *229*2# to purchase airtime or visit 9mobile official page by clicking here.
To select any plan of your choice from there and subscribe to 500MB downward. 
When the subscription is done, turn on your data connection and click on connect on the VPN. 
Wait for some seconds for it to connect and watch ads on the VPN.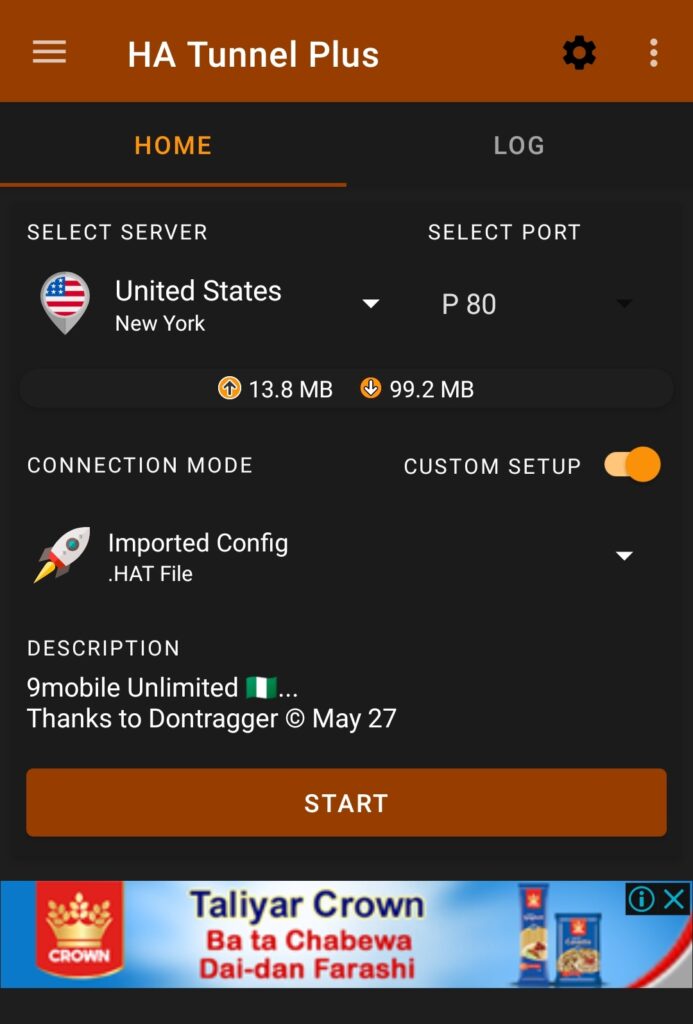 Then you are good to go.. Enjoy the unlimited browsing in your way.
Let's know in the comment section if it works for you. And join our telegram channel to see more related posts.